New Kisai Console Watch from Tokyo Flash
Tokyo Flash, One of the Companies of Japan has designed a new watch which is known as Kisai Console watch. The wrist watch is not so normal that users need atleast sometime to learn to read the time. Kisai Console watch is designed using LED Backlight display. The watch is now available in market at a price of $200.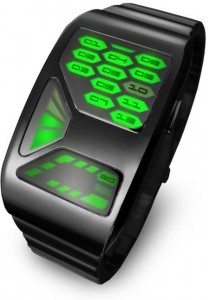 The Watch is designed with high quality stainless steel which features three carefully drilled zones, each fitted and curved with crystal glass lens or light enabled glass. Simple to read at a glance, Console's display separates time into three separate zones. Hours 1-12 are the shown by digits in the upper window. Five minute intervals are shown in the lower window progressing in a clockwise direction from bottom left and single minutes 1-4 are shown in the central window. After touching the button, lights showing the current time will flash for several seconds to direct you.

Related Content
Disclaimer: The content published in this article is the views of the author only. Techglimpse does not gurantee accuracy, completness or validity. If you believe the content on this post violates your copyright, please send us a mail for removal.
Read more
.