BlackBerry's Black Friday Bonanza!
It looks like it's going to be a great Thanksgiving for all you BlackBerry boys as BlackBerry USA has come up with a mind-boggling offer for its latest proffering – the BlackBerry Passport. The only catch ? You'll have  to ditch your prized iPhone for the brand new BB device. Yeah!
BB's new Passport device was released some time back to mixed reviews – with most, including some of us at TG – highly favouring some of the newly incorporated features like the expansive square-shaped touch screen with a resolution of 1440 * 1440 pixels, the pixel density of 453 pixels per inch (ppi), the 13 Mega Pixel Camera with Optical Image Stabilization (OIS) and last, but certainly not the least, the Blackberry Hub which acts as the single gateway for all your conversations ranging from email, text, BBM™, phone calls, social media and much more.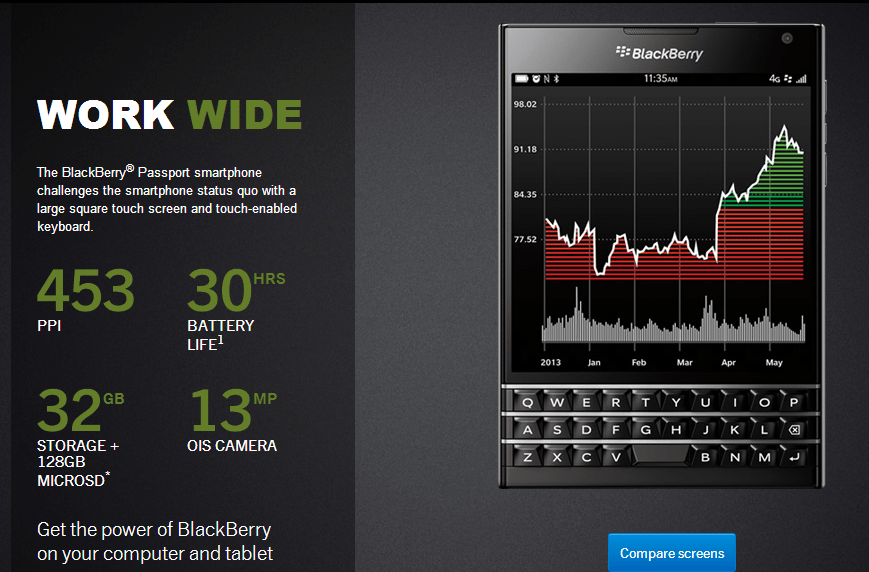 With this beast of a phone on its hands, BlackBerry seems intent on capitalizing on the festive mood what with Thanksgiving being yesterday and the Christmas shopping season being just round the corner. Thus, they have come up with the new Blackberry Trade Up scheme wherein anybody staying in USA or Canada can purchase a BB Passport device and exchange their working iPhone 4S, iPhone 5, iPhone 5C, iPhone 5S or iPhone 6 for a trade-in value along with a top-up value paid by BlackBerry. One can ascertain an estimate of the amount they can receive by checking the table below –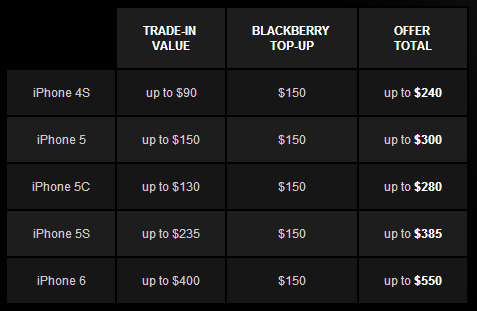 Thus, as is visible from the table above, one can receive a maximum of upto US $550 for their iPhone 6. If BlackBerry continues to sell the Passport at the current holiday price of US $499 (a discount of US $200 on the current price) , this implies that one can obtain a brand new phone and even a credit of US $50!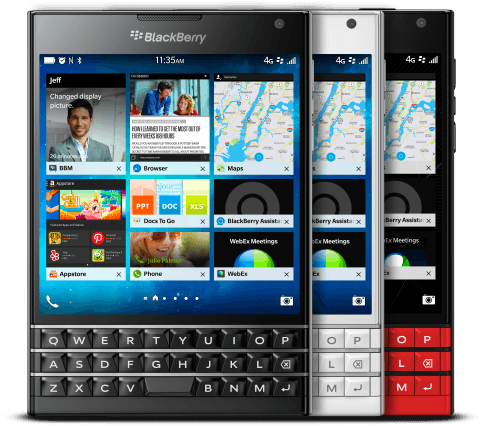 However, whilst BlackBerry seems happy to try and bait you in this manner, they aren't as eager to part with the trade-in value if you go through the Terms & Conditions carefully. According to the T&C, one HAS to purchase the device ONLY from BB's online store or from Amazon USA. Further, while the Top-Up Value is fixed for customers in the USA ( US $150) or Canada ( CAD $200), the Trade-In Value depends on a host of factors again such as the condition and model of the iPhone being traded in.
Moreover, the following are some other conditions specified for the iPhone –
Be fully functional – The iPhone powers up and can make and receive a call and all components (camera, software, touch screen) are operational.
The user lock must be removed and the "Find My iPhone" feature turned off.
Note: The iPhone should be able to send and receive calls and all features must be working without the need to enter any unique code or password prior to use.
No liquid damage internally or externally.
Working LCD without cracks or bleeding.
Valid ESN, IMEI or MEID number.
According to the scheme, which begins on 1st December, 2014, within 30 days of  receiving your BB Passport, you have to send in Proof of the Purchase along with your iPhone to the company. They shall ascertain the condition and value of the traded in mobile phone and dispatch a pre-paid Visa Card to your address within 6 weeks of receiving the same.
So, while BlackBerry appears to be trying its best to get people to convert back, let us wait and see just how many people will opt for this scheme.
P.S. Yes, we too agree that disposing off a brand new iPhone 6 for any Blackberry device is pretty unnatural, but hey BB seems to be thinking – if you don't have a BB … you don't have a BB, right?!