Do you own a device that runs Windows 8 and willing to update to Windows 8.1? In case, if you have problems in updating, then Microsoft's latest patch is here to the rescue – Windows 8.1 Update 1.
With the release of Windows 8.1, things are looking better in the side of Microsoft. The OS incorporates a lot of features, including  the return of Start button, signs like "-" and "x" for closing metro apps using the mouse and keyboard. The OS also features faster memory handling, performance improvements and fixes.
Error : HAL_INITIALISATION_FAILED
It is typically the Blue Screen of Death (BSOD) – featuring a sad smiley and the error message "Your PC ran into a problem that it couldn't handle, and now it needs to restart".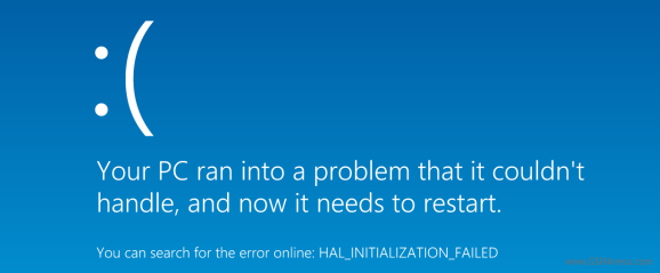 Microsoft is expected to release patches which will help you in the update process. But this time make sure you go via Windows Update and not via the Store. The patch will inevitably get you to the Windows 8.1 update. The Update 1 is available for free download in the store. You also have the option of getting your metro apps on to the taskbar and close them right from there. How handy!
In Jan 2013, following a privilege escalation exploit found out by a developer in the data stored in RAM for the Win RT platform allowed unsigned codes to execute (but by default, it is set such that only codes that Microsoft signs runs on the devices). He wrote to Microsoft on removing the limitations posed on the RT devices seeing for the Welfare and the developer love that could've happened if that were the case. Microsoft replied saying that it didn't pose any security threat but thanked his efforts for finding the exploit and that they'll patch it up. Way to Go Microsoft
Download the update and get your Windows Device to the latest version of the OS. Are you one affected by this issue? Does the update help you? Let us know in the comments below.