Do you believe it? OnePlus One costs Rs. 36,500 in India
The OnePlus One smartphone is from a company that doesn't have any brand value attached to it. But the smartphone has become the much awaited phone of the year and has grabbed attention across the world quickly! The reason for the blasting fame of this Flagship Killer is its attractive spec and competitive price. The device was expected to cost Rs. 18,499 in India (at least that's what reported and advertised by various tech websites). A high spec loaded phone for such a price, is enough to reach the ears of Indian buyers, including me.
Well, but that's all going to be a dream. I mean, OnePlus One may not be so cheap in India. Shocked?
Today, I happened to visit Amazon.in and was put to complete despair; OnePlus One is listed Rs. 36,500 for 16gb and Rs. 39, 700 for 64gb.
I thought OpenPlus One is going to do what MotoG did, an impressive spec for an affordable price. A point to be noted here is that the device can be purchased on an invite only basis from the OnePlus One website. I'm confused why Amazon is selling the device for a hiked amount in India.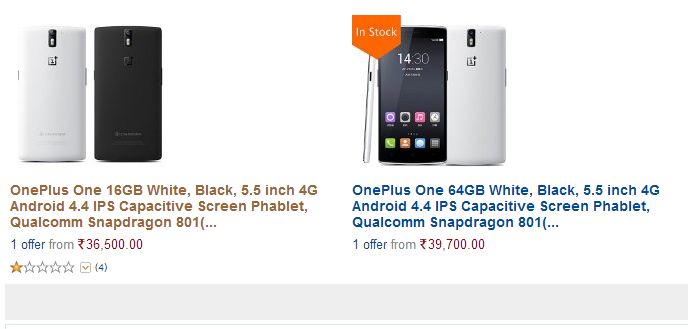 No belief? Check for yourself at amazon!