Timex has long been a recognized name in luxury time pieces but that doesn't mean they're content to sit back and watch the world pass them by.  In fact the company has reinvested in science and technology to come up with some of the most advanced wearable timepieces around.  One of their most impressive is the Timex Ironman Global Trainer.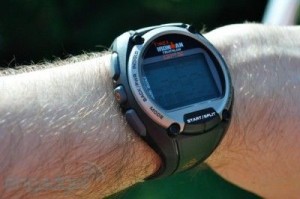 This represents the first true GPS sports watch because previous models have always relied on a GPS module that piggybacks on the watch.  In order to cram all of this tech in, Timex had to sacrifice size.  The Trainer is huge.  Monstrous even. First off, it's extremely easy to use.  Whereas the Garmin units are primarily a GPS with the watch part strapped on, the Timex is truly meant to be an everyday wearable watch that just happens to function as a GPS.  Another thing, the screen is customizable and capable of displaying up to four different sets of data at once.
So if you're a runner that's looking for a watch, this Global Trainer may just be the one for you. Price of this GPS watch is $360.