Everything you need to know about Xiaomi RedMi 1S!
Xiaomi – The Beijing headquartered and upcoming tech aspirant has taken the world by storm. Their Wiki page lists them as "one of China's biggest electronics company that designs, develops, and sells smartphones, mobile apps, and consumer electronics". Further, the fact that they arrived in the tech world just 3 years prior is just as equally astounding as the fact they have already overtaken Samsung's mobile sales in China (Q2 2014)! It is no wonder, then, that it is the very same company, led by the visibly able Lei Jun, which has managed to churn out global blockbuster hits such as the Mi2, Mi3 and now the RedMi 1S and RedMi Note!
The Hype, The Hullabaloo & The Hubris
Xiaomi is one of those rare companies which exudes self confidence, strategies and visions akin to behemoths like Apple. Founded in 2011, the company virtually executed a coup last year, when they managed to gain the allegiance of globally acknowledged tech genius Hugo Barra, who was previously the Vice President and product spokesman of Google's Android division. Mr Barra, the Vice President for International at Xiaomi, has been said to be personally involved with the marketing of new Xiaomi devices like RedMi 1S in our country.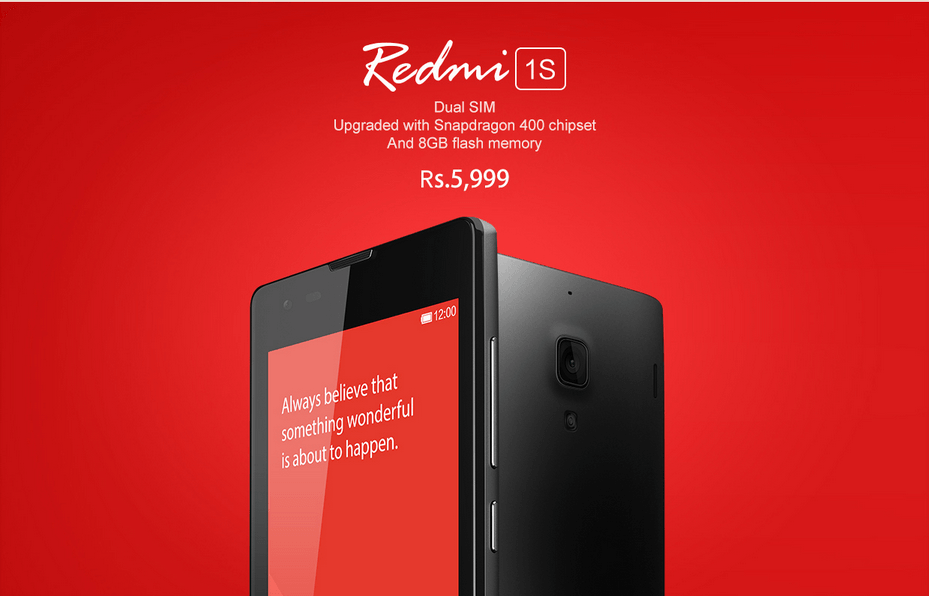 Eccentric – This is the word which can most uniquely and succinctly describe Xiaomi's business model. This distinctive model prices a device extremely close to the company's bill-of-material prices.  It plans to make money on the device is by continuing its sale over a period of 18 months rather than the industry norm of about 6 months (rigorously followed by Samsung) and by selling device accessories. The main advantage of continuing sales over such an extended period of time is the significant drop in its components prices. Some of the primary reasons that RedMi 1S created a stir in the Indian subcontinent are –
Be the first to Price a device in the sub $100 (under INR 6000) category 
Incorporate distinctly superior components which numerous others still are not able to do (although, they have come pretty close!).
Partner in an exclusive tie-up with Flipkart. This turned to be a major factor, I believe, as Flipkart's marketing and PR juggernaut is second to only a few in the current market scenario.
All the above resulted in some extremely good and beneficial word-of-mouth publicity, which further piqued the masses curiosity. The sane can be viewed in Xiaomi's following Twitter message after one of the device's flash sales on Flipkart –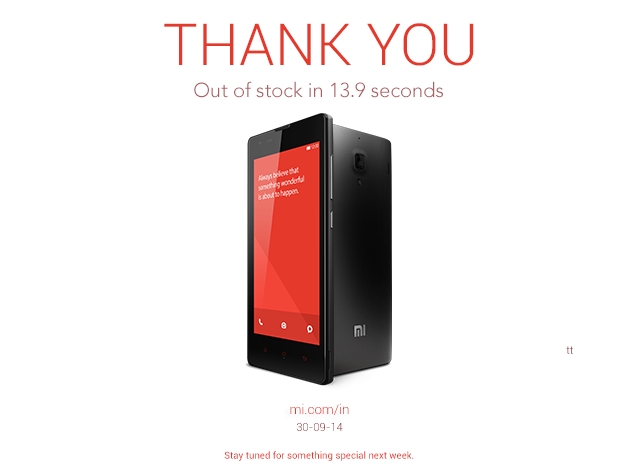 Last, but certainly not the least, many Indians are now viewing Xiaomi's exclusive tie up with Flipkart and the limited availability of phones as sign of the company's arrogance. However, this, too, is a part of Xiaomi's business strategy. They only sell their devices online and do not have any brick and mortar stores, unlike any of their competitors. Another reason for this is that Xiaomi can still be considered to be in startup mode and does not have the financial strength to establish their footprint across the globe so quickly. Either way, the legions of fans who end up disappointedly after each flash sale don't appear to be as happy with this strategy.
RedMi 1S Unboxing and Unveiling
The device shipped in an environment friendly box – another plus for the eco-warrior in you. It comes as a bare bones package with a device, A/C adapter and USB cable. If you are lucky, and if stock lasts, you can also be lucky enough to receive 1 RedMi 1S Screen Protector & 1 Redmi 1S Micro sim-card tray.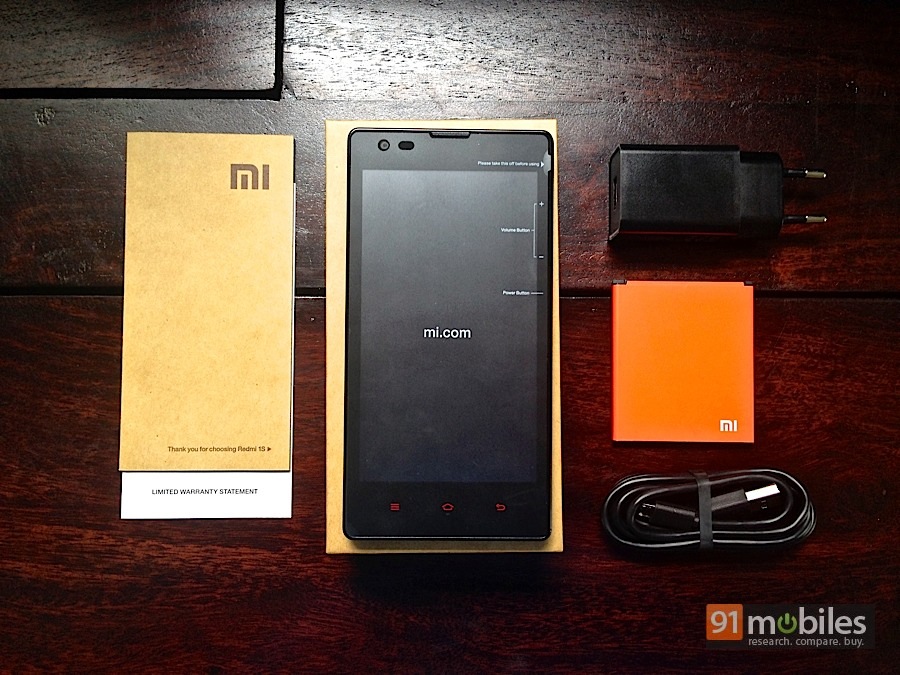 Design & Build
Keeping in tradition with the rest of its brethren, the RedMi 1S doesn't attempt to break away from tradition. It sticks the oft-used candybar shape and sizes – 137 x 69 x 9.9mm. If you've not fallen in love with it yet, its staggering weight of 158g is likely to turn you further off. However, in its defense, neither of its competitors (the new Android One phones, the Moto E) are aesthetic beauty themselves.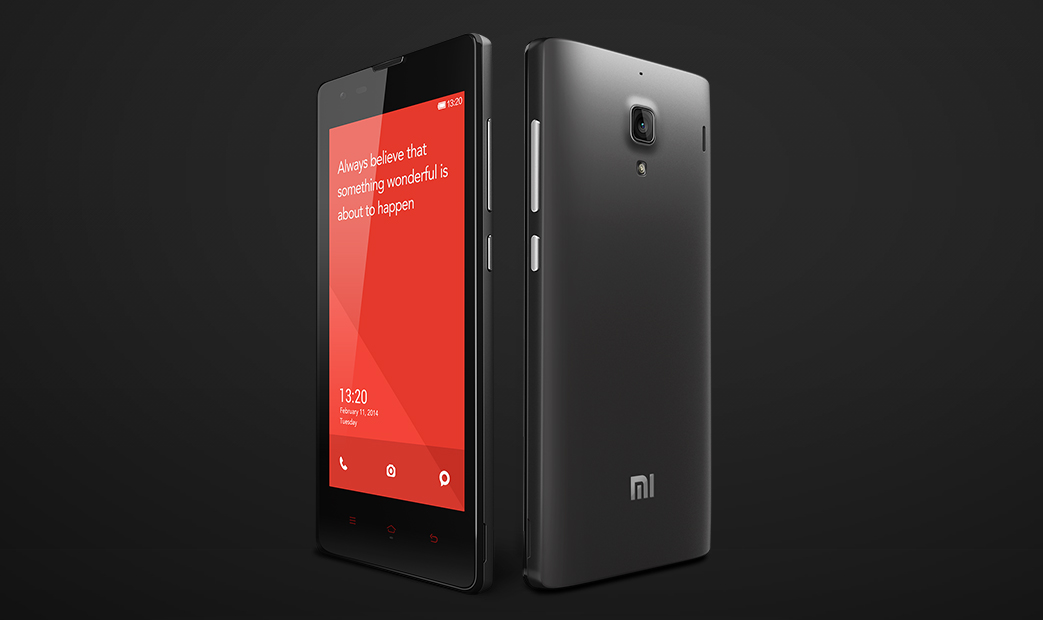 The jury seems to be split on the red capacitive key icons, though I personally seem to like them. The matte back feels nice to hold and the phone, overall, exudes a feeling of being well-made and sturdiness. However, the phone appears to be a fingerprint-magnet. Further, the front 4.7 inches are completely sheltered by AGC Dragontrail glass – something, surprisingly, even the high-end Xiaomi Mi 4 doesn't get. Lastly, the back matte cover is removable and one can expect Xiaomi to provide colorful back covers as well.
Specifications
Before I go on, lets have a wholistic view of the Redmi 1S' specs below –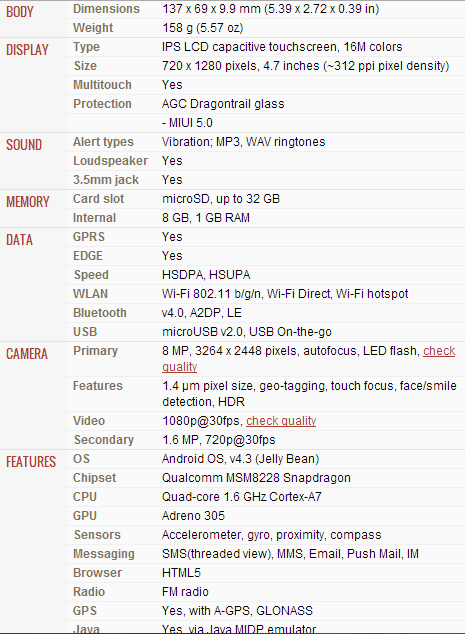 This is the part where the true, unbridled, power of this unique phone kicks in! As is visible in the spec details above, Xiaomi has spared NO expense at providing you a phone which can punch WAY above it's weight. In fact, had I not known the pricing of this phone I would have actually compared it directly with phones in the immediately superior category i.e. phones in the INR 10000 – INR 15000 with the likes of the Moto G. Let us break up the components individually below.
Screen – 1280 x 720px, ~312 ppi
This phone presents you with a true beauty of a screen – one still not visible in any phone in its category (including the new Android One entrants)! The "Brilliantly Beautiful" tagline used to market the screen is perfectly apt, given that it is a 4.7 inch screen with a resolution of 1280 x 720 pixels. The fact that the screen incorporates In-Plane Switching (IPS) technology makes it all the more delightful, as you can now view the screen almost perfectly from just about any angle. Moreover, it has a brilliant pixel density of ~312 ppi (pixels per inch). When you consider that even the recently launched iPhone 6 has a pixel density of ~326 ppi, you know you've got a winner in hand!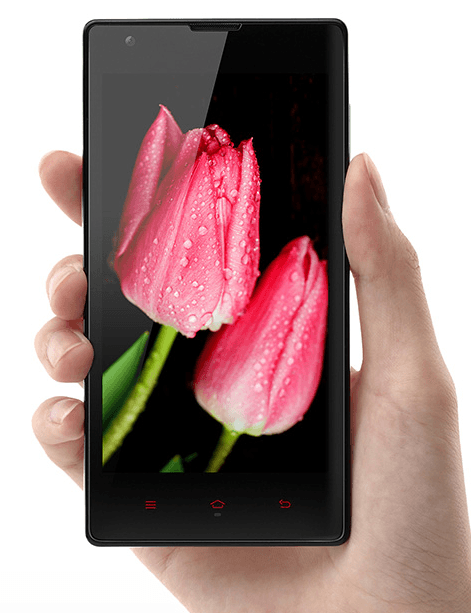 Memory – 1GB RAM, 32GB expandable slot
The phone offers 1GB RAM, 8GB ROM and a memory slot to supplement upto 32GB of external memory. Till even a year back, these were considered medium – high end specs! The phone incorporates Xiaomi's in-house developed MIUI OS – a highly customized and modified Android OS. After MIUI and the inbuilt apps are set up, a user has about 6.14 GB of the 8 GB available for usage. Not bad at all considering the enormous bloatware that eat away considerably more space on Samsung and other phones. However, the one main downfall of the phone is the RAM – users can only avail of about 400 MB of RAM for generic usage. While this should not be a problem for the average Joe, it will probably leave a bad taste in your mouth if you like multi-tasking loads of heavy apps. Having said that, the phone has performed flawlessly in our initial tests.
Qualcomm and its Performance
Xiaomi once again outdoes itself. The 28nm Qualcomm MSM8228 Snapdragon 32 bit ARM A-7 chipset provides users with 4 highly efficient cores which can clock at a maximum frequency of 1.6GHz. This chipset is what enables the camera to be able to shoot videos at 30fps (1080p). Accompanied with a Qualcomm Adreno 305, it gives the phone some seriously sharp teeth which empower users to try and bite off more than they can chew. The only problem that comes to mind after extensive use of the phone is the RAM availability (mentioned above)!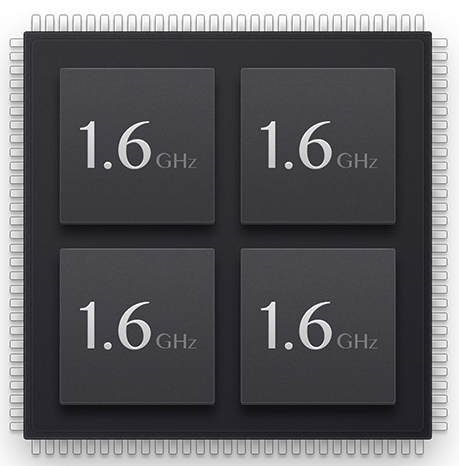 To get a better understanding of its true capabilities, we decided to run the 1S through a few synthetic benchmark industry tests. All of them pointed to sores and capabilities of phones priced much higher than this little beaut. The score results are as follows :
21,439 in AnTuTu 5
 10,752 in Quadrant.
Graphics benchmarks 3D Mark Ice Storm and GFXbench scored the phone at 5274 and 10.4fps
Further, the Li-Ion 2000 mAh battery is par excellence! Our friends at other tech blogs, including NDTV Gadgets, put the phone through rigorous usage and walked away with a smile from ear to ear  – and the phone! Not one of the reviewers wanted to leave the phone, especially after viewing the exceptional battery life when compared to its competitors. Some friends over at NDTV Gadgets, managed to milk  8 hours and 27 minutes of video playback, on a loop, from the phone. I believe that the phone should proffer a day's usage even with heavy usage.
Camera – 8 Megapixel
I'm sure that you've gotten bored of me saying just how exquisite this phone is. So, let's just skip ahead to some details and some magnificent snaps clicked by the phone.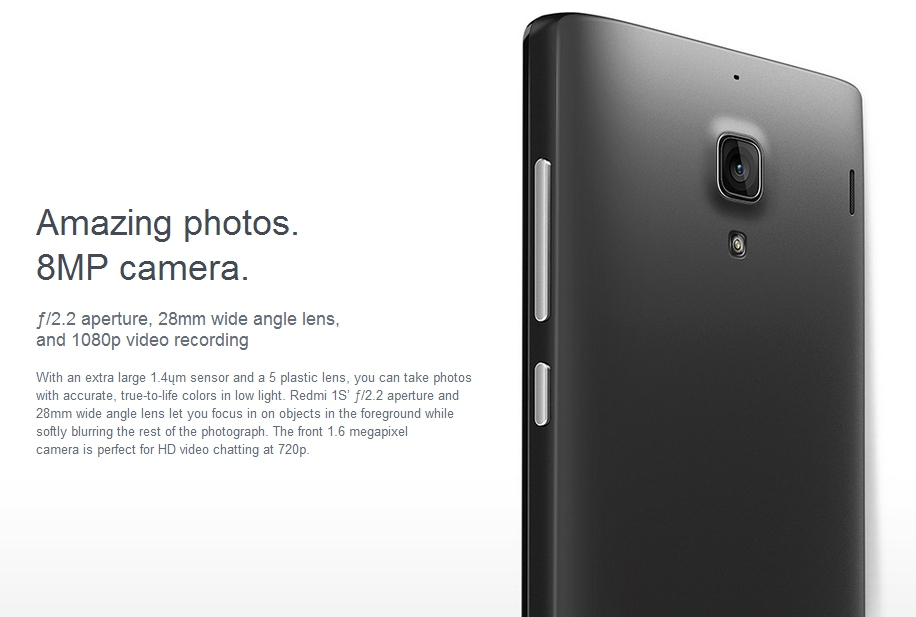 The 1S, undoubtedly and unreservedly, has one of the BEST, if not the best, primary camera's onboard – and that's within the INR 10000 category. The 8MP camera provided extremely impressive shots in the day, with the only minor fault being the behind-the-scenes image processing (noise reduction, in particular, as it smudges details a little) being done implicitly. Further, the simplistic camera interface is a pleasure to use and quite simple to grasp in the first time itself. Some settings offered are HDR, scenes, focus mode, white balance, exposure and ISO manual settings, amongst others. The Face Detection feature is a nice addition which is not offered in other competitors.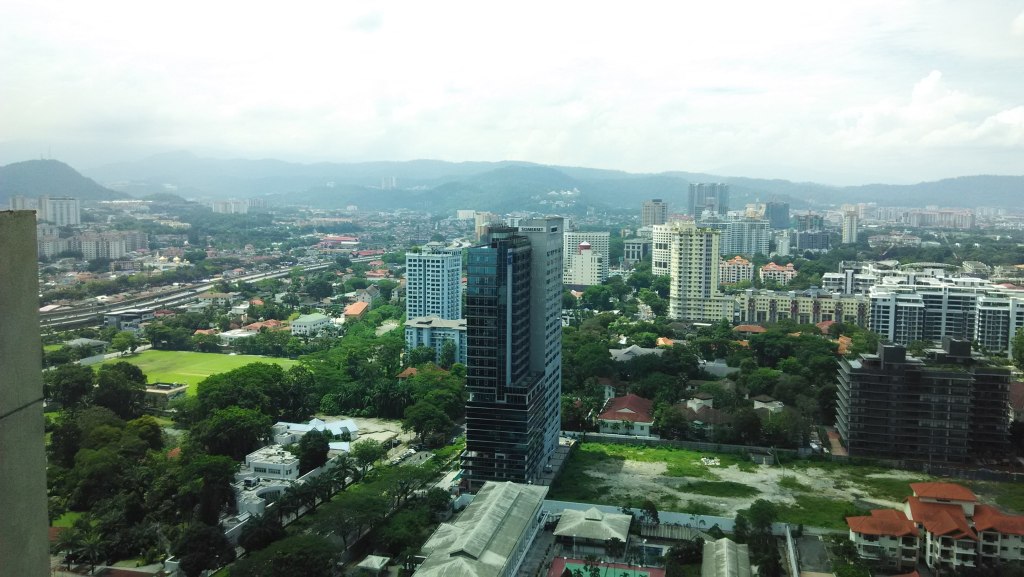 Credits for the above image : Thanks to lowyat.net
Additional Features
Conclusion
Having said so much, I'd like to recapitulate by simply saying that this is a phone which managed to sell out 60000 pieces in a matter of 13.9 seconds. I'll probably take more time than that to even finish this sentence! While there are certain misgivings like the slightly reflective glass on the screen and the low RAM availability, these are like twigs in a storm. They get dwarfed on viewing the horde of other impressive features and benefits the phone offers. The problem, however, is not whether you like the phone or not – it is whether it is still available for you! With about a few lakh people competing for a handful of phones, getting one is gonna be a wee bit difficult! :p
Do comment and/or write in to us, if you manage to get a piece and want to share your user experience.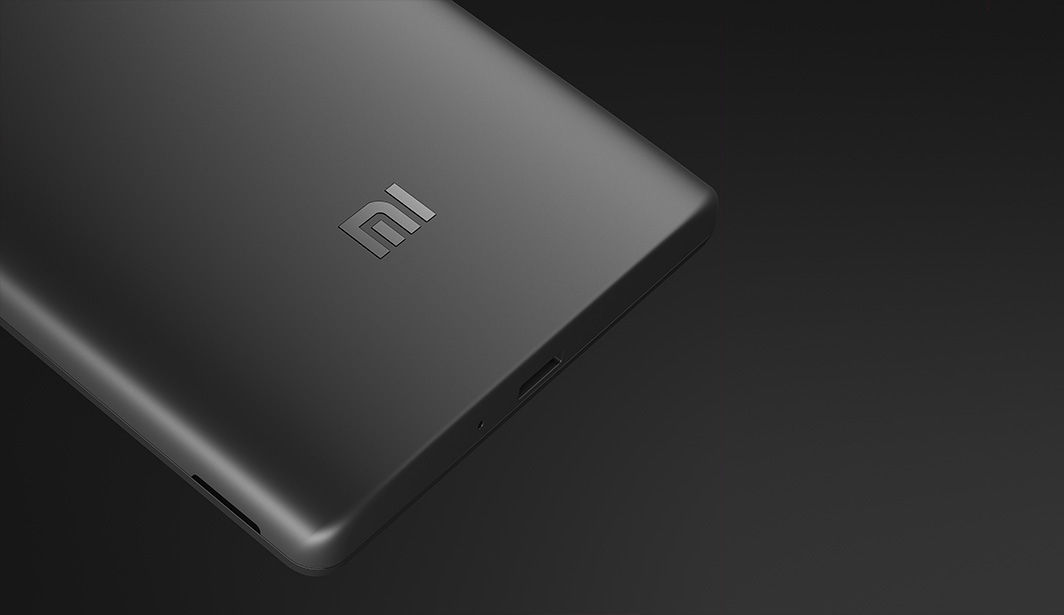 P.S. I know that I've not even gone near the wondrous OS – the MIUI. However, since the article was already so long, that I dare not do that herein. However, will try to do a solo article on that soon. Check out the following to get a gist of some of its features –