Galaxy S5 to feature 64 bit Exynos Chipset?
Samsung is readying its Galaxy lineup and is said to bring its latest beast in the market- The S5. It is said to feature an Exynos Chipset with 64 bit processing.(No surprise here!). The S5 is said to be the first phone to feature the latest chipset from Samsung. But expect a lot more to follow up in 2014.
The Korean Media suggest that the 64bit are in its final stages and that you can expect it anytime soon. Samsung has successfully completed the development process and is now in the stage for logistics. The Chipset is said to be the new 14nm architecture. And is said to consume less power.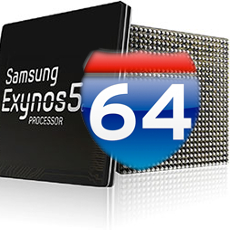 Samsung is also bringing its new true-octa core chipsets which are said to power all its 8 cores rather than power four at a time for heavy tasks and power the other four in case of small tasks as in the case of S4. The S4 has a quad core 1.7Ghz and quad core 1.2Ghz processor. Totaling up to 8 cores. The 1.7Ghz comes into play when there are heavy tasks involved like playing games, etc. The 1.2Ghz is involved when you have tasks like taking down a note, drawing, etc. that is light on the chipset. Not true octa core processing.  Though Samsung said it can bring octa core processing in an update foe S4 but it didn't later on. Expect these chipsets to feature true octa core capability and which will also have a less power consumption when compared to the galaxy S4 chipset. Only time will tell.!!!