Rat on Scooter XL Game
Games are being introduced by many game producing companies. Now, a new game called Rat On Scooter game has been introduced keeping our small devils in mind. This game is meant for children who are less than College level. In this game they will have to become a rat and drive the scooter. This scooter undergoes many ups and downs and many more adventures which the rat has to overcome or pass to go to next level.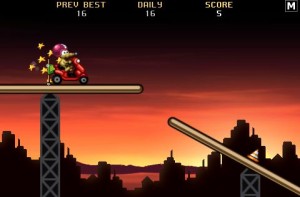 As a player, you'll have to collect the cheese and bonuses for scores. Performing stunts will also be adding up to the total. This game has 4 different modes and I am in love with all of them, specially the "Power Rider" mode. The scoring game is quite interesting that you will beat your own score again and again. Totally this is a quite interesting and very easy to play game with very less instructions or keys to be remembered or followed. You can download this game or even play online.
Related Content
Disclaimer: The content published in this article is the views of the author only. Techglimpse does not gurantee accuracy, completness or validity. If you believe the content on this post violates your copyright, please send us a mail for removal.
Read more
.