Samsung devices to be latest in updates – 64 bit architecture and 560ppi Display
Samsung has taken its game to a whole new level. The future devices are said to pack 64 bit CPUs and 4K resolution display which are said to give more vivid blacks and deeper contrasts. They are also said to be of the AMOLED type but don't know if it is SuperAMOLED! , remember the Galaxy Round?! Samsung is sure making a big move with this. The competition is sure to be one sided unless something else comes up.
The production of devices is said to happen in two stages. The first image shows an ARM processor and next a Samsung processor. Samsung will first develop 64-bit cores based on ARM designs and then move to its own. ARM is a family of instruction set architectures for computer processors based on a reduced instruction set computing (RISC) architecture developed by British company ARM Holdings. Using a RISC-based approach to computer design, ARM processors require significantly fewer transistors than processors that would typically be found in a traditional computer. The benefits of this approach are reduced costs, heat and power usage compared to more complex chip designs, traits which are desirable for light, portable, battery-powered devices (which in recent years, have included smartphones, laptops, tablet, and notepad computers), and other embedded systems. Alternatively the use of a simpler design allows more efficient multi-core CPUs and higher core counts at lower cost, allowing higher levels of processing power and improved energy efficiency for servers and supercomputers. Samsung has decided to learn from the masters of processors and then learn to make its own processor aka in house processors.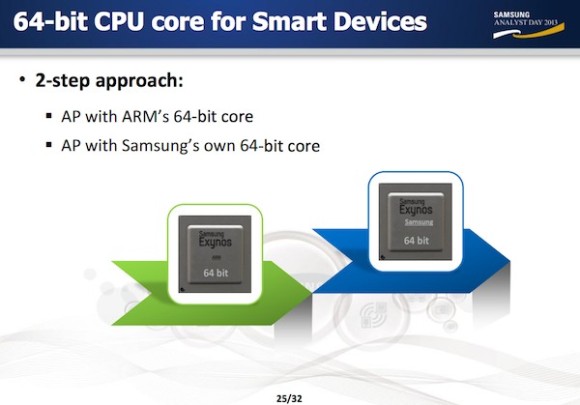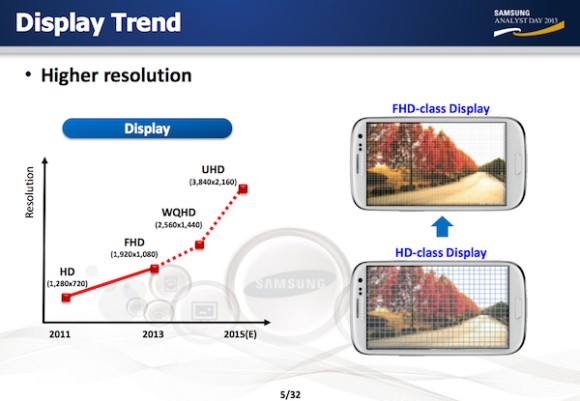 The next thing is that Samsung has also decided to also build 4K resolution devices which are expected to be in about a pixel density of 560ppi and screen resolution of 3840×2160 pixels. The second graph says exactly that. It is expected to come by 2015. The standard till then will be 2560×1440 moving into WQHD mode. Samsung is supposedly to feature this on the next Galaxy- the Galaxy S5. Only time will tell!