Sony Xperia M vs Samsung Galaxy Grand Quattro
It is an Android battle again. This time it is two big brands that are rivalling each other. The two contestants on the ring are- in the red corner <Sony Xperia M> and in the blue corner <Samsung Galaxy Grand Quattro>
The Sony Xperia M features Sony Omni Balance design and is said to be a very smaller version of the Xperia Z or a smaller version of the Xperia C. The Xperia C is an amzing phone. The Omni Balance design is borrowed from Xperia Z. It features the metal power button from the Xperia Z. The Xperia Z is said to spark some of the brain cells in Sony and is said to be present in all the other phones as a standard. In this article, we take you through a battle of death between the two phones. Drop tests are not yet performed on these phones as they are relatively new.
Sony Xperia M over the Samsung Galaxy Grand Quattro
Durable material rather than cheaper plastic
Wonderful feel of the phone
No lag when compared to the Galaxy Grand
Relatively lighter than the Quattro
Supports 720p Video recording
Faster HSDPA Speed of upto 21 Mbps compared to 7.2 Mbps of the Quattro
NFC support
Samsung Galaxy Grand Quattro over the Sony Xperia M
Quad core processing compared to Dual core of Xperia M
Bigger screen (4.7″) when compared to 4″ of the Xperia M
Faster processor- 1.2GHz
More internal storage- 8GB vs 4GB
Ships with Dual SIM. A separate variant of the Xperia M deals with this.
Better battery capacity 2000mAh when compared to 1750mAh.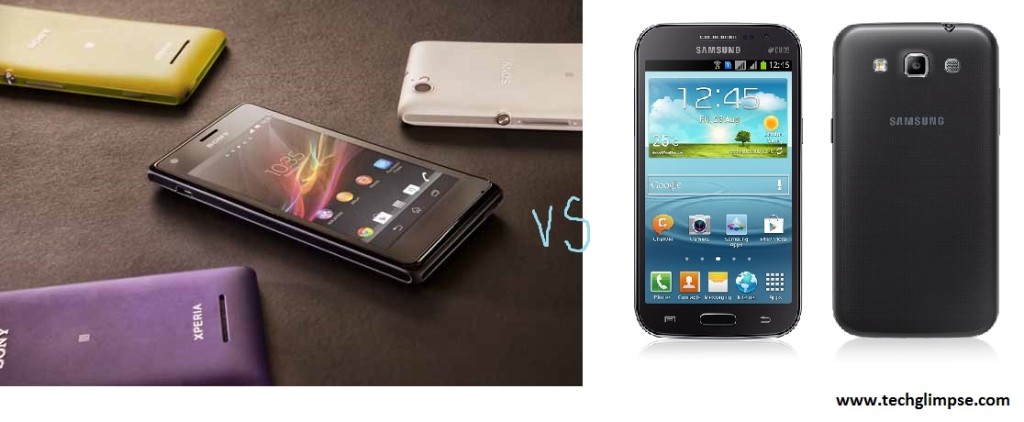 Which phone you choose depends not on the above factors but they are just a reference so that you don't have any problem in the future with the phone that you choose. You an go for the Xperia M or the Quattro. Both are good phones and are sure worth the price. Choose wisely and depending on your use. Cheers!
Also Read :
Android phones budget battle – Price range Rs. 10000 – Rs. 18000/-