Samsung Galaxy S5 gets it own renders. Check out the cool pic.
The Samsung Galaxy S5 is the most sought after phone and is still in rumour land. The features of the phone are pretty impressive and we have got one particular render, which looks sort of new when comparing other Samsung phones and we like it.
The new Galaxy S5 features 5.25″ screen with 2K resolution (2560×1440). The phone is expected to come in two versions. One is made of premium materials like metal and the other version comes as a "cheap" grade and is made with plastic. The phone is said to feature 64 bit quad core Exynos 6 processor clocked at 2.5 GHz.
The Galaxy S5 renders are based on the specification that were rumored. The phone as seen in the image comes with Android 4.4.1 KitKat with a modified version of TouchWiz which is said to be transparent. The Display is glued to the surface and looks neat. At the back is the faux leather, which is  not fascinating me. It is the white stitching on the black background which gives it a luxurious look.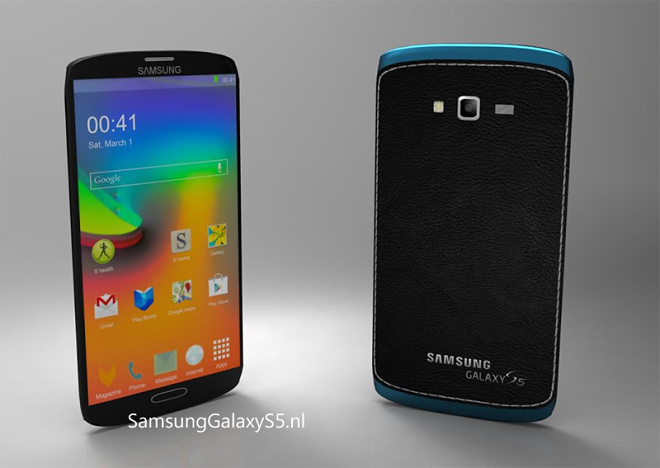 The Samsung logo is present at the bottom of the back side and adds to the look. The phone also is expected to come with an Iris scanner plus a fingerprint sensor matching and rivaling the iPhone 5S. This design is part of the change that Samsung wants to implement. The camera is speculated to be 20MP shooter, but it could also be 16MP ISOCELL (the new imaging technology that Samsung was producing). In the end, only time will tell whether this concept or render will see the light or not. Keep your fingers crossed.