Sony Mobile Unveils Tablet in South Africa
Sony Mobile has launched an ultra-advanced tablet in the South African market on the 28th of May at a launch event held in Cape Town. The tablet named Xperia Z is designed to demonstrate Sony's fresh approach to tablets as well as followup on the Xperia X Smartphone which launched last month. The tablet seems to be aimed at bringing together all your devices and is an upgrade in terms of looks as well as hardware specifications.
Check this out: the device specs boast of a 10.1″ Reality Display, a RAM of 2GB, a 1.5Ghz Snapdragon S4 Pro quad core processor and the Mobile BRAVIA Engine 2. The device is water resistant as well. According to a statement by Sony, the Snapdragon S4 Pro processor is now powered by an Adreno processor that can process 320 GPU which is two times faster than the previous Adreno processor allowing you a better and stunning visual 3D game experience as well as hassle free web browsing. Speaking of the internet, the device offers multiple connectivity options as well, such as a built-in LTE/4G modem, Wi-Fi, WiFi Hotspot functionality in addition to HDMI via MHL support, NFC and Bluetooth 4.0 wireless technology. The device has some of Sony's existing technologies as well as new options.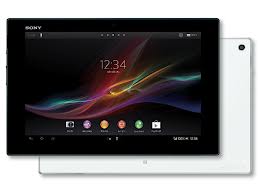 According to reports, the device is meant for entertainment and has a built-in multi-brand remote control to provide seamless control of all your devices with a single unit. Sony's existing functionality like Screen mirroring, Throw and TV side view have also been factored into the device. You can use the tablet to take pictures too – it boasts of an 8 MP rear facing camera powered with the Exmor R mobile sensor and capable of a 16x Digital zoom. It features a front facing camera of 2.2 MP as well which can capture videos in 1080p. According to Sony, the tablet is all about bring multiple devices and hardware together to provide a fabulous experience for the user while keeping it simple and easy at the same time. The tablet sports a tag of about R9000, approximately $100.