Samsung S4 is less durable than Google's Moto X and iPhone?! [Video]
In-spite of being performance oriented, light weight and super fast, the latest smartphones are actually getting delicate. A San Francisco based company called SquareTrade (provider of protection plans for gadgets) conducted durability tests on 5 latest smartphones which include Apple's new iPhones(iPhone 5, iPhone 5S and iPhone 5C), Samsung Galaxy S4 and Google's Moto X. The tests included drop from a height of 5 ft, submerge in water for 10 secs and slide test.
To the surprise, the biggest loser comes as the Samsung's Galaxy S4 and the winner is Google's Moto X , the first smartphone assembled in U.S.  It is also the first phone designed by the Internet Giant Google along with Motorola.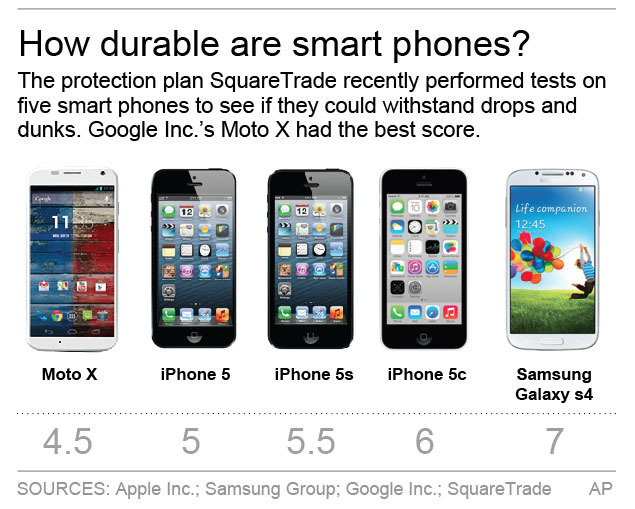 One more finding is that Apple's latest model smartphones aren't as durable as the previous ones! Ty Shay, Chief marketing officer stated that "We were expecting that at least one of the new iPhone models would up its game, but surprisingly, it was the Moto X that proved most forgiving of accidents".
On a scale of 1 to 10, SquareTrade rated these smartphones, with the number being high, less durable. Above image gives you the scores of each smartphone. Below video shows details of the tests conducted by SquareTrade.