W3C and C-DAC join hands for HTML 5.0 Tour in India – Event summary
Today at Bangalore, I happened to attend this fruitful event "HTML 5.0 Tour in India" organized by World Wide Web Consortium for India along with Center for Development of Advanced Computing (C-DAC, Bangalore). The event was an one day workshop organized at Atria Hotel, Bangalore on September 19th 2013.  It was all about the power of HTML 5, its features, why should business leaders care about it, what problems the technology can address, demos and invited talks from various industries like Google India, Intel, Samsung, Exilant and Internet Academy. I would say, the event was really informative for the people who love to play around with HTML 5 and its related technologies. W3C and CDAC has planned to launch this event in five cities across India and below is the complete program list.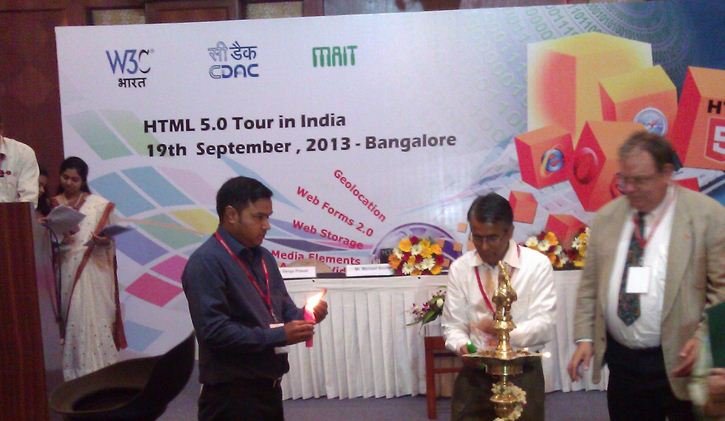 Date : 17th Sept., 2013

Location : New Delhi
Theme : Authoring the Web: New ways to build complex Web content, including the use of Web Components

2. 19th Sept., 2013
Location : Bangalore
Theme : Understanding the Web: Core features of the Web Platform (aka HTML5)

3. 21st Sept., 2013
Location : IIIT Hyderabad
Theme : Powering the Web: New ways to tune and optimize the performance of Web applications

4. 23rd Sept., 2013
Location : C-DAC Kolkata
Theme : Rethinking the Web: New modes of operation for Web applications,including offline Web applications, the Next Generation

5. 25th Sept., 2013
Location : C-DAC, Pune
Theme : Connecting the Web: New ways to use the Web to connect with other people,
including real-time video chat and video conferencing (WebRTC)

HTML 5 is one of the major milestone in Open Web Platform that is set to transform all industries, including gaming, publishing, mobile devices, television and services. For those who wanted to attend the event, but could not make it; here's the summary.
Welcome address
The event started with a welcome address by Mr. Ganga Prasad, Associate Director of C-DAC Bangalore, Alan Bird Global Business Development Lead at W3C, Michael Smith HTML Activity Lead W3C, Vishnu Sharma Principal Architect Exilant and Supriya Pal C-DAC Bangalore.
Keynote address : HTML 5 – What's it for Business?
Speaker : Vishnu Sharma – Principal Architect, Exilant.
"You get Instant fresh filter coffee…No one wants to wait", is the state of customers these days said Vishnu during this witty talk. His talk was on why business leaders should care about HTML 5, what critical issues can be solved and about the transformation of web, login mechanisms, computing devices and Facebook from 2007 till today. He also pointed out that, HTML 5 can come in rescue in Offline mode access, Local storage, Audio/Video, Connectivity, File access and Semantics.
Understanding the Web – The core features of the Web Platform
Speaker :  Michael Smith, HTML Activity Lead W3C
This is was the main talk in the workshop, where Michael started with an interesting quote "Web is 20 years old, but we are still in very early years of the web". His talk was mainly focused on various features of HTML 5,  the problems it can address and few useful resources for the HTML 5 developers.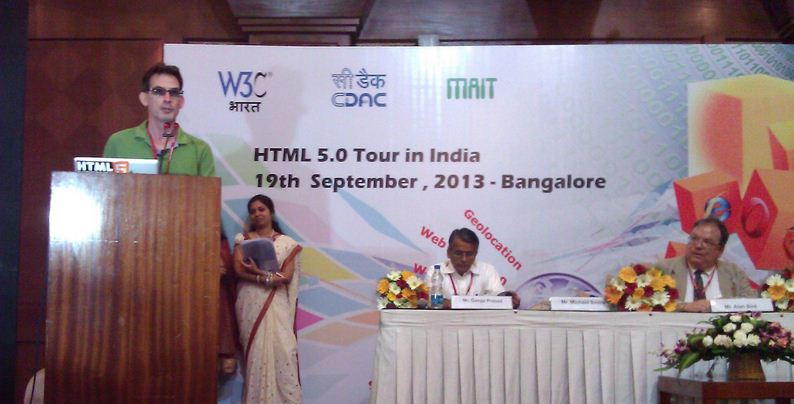 HTML 5 – "The Web Platform",  adds new programming features to the platform and run time for web apps, said Michael. HTML 5 work is about exposing more device features to web applications. The later part of his talk was deep into the technical aspects of HTML 5; where he explained set of technologies that make up Web Platform (Protocols such as TLS/SSL, HTTP and Web Socket; Formats such as URIs, HTML 5, CSS3, SVG and JavaScript).
"Developing something on top of third party platforms such as Flash, BREW, Symbian, J2ME, Android and iOS, is actually a business risk", said Michael. The solution is to develop on top W3C's open specifications and standards, will reduce risk. He also pointed an example of a company, who invested on Flash technologies and now Flash is no more the future.
Michael also gave brief introduction to various Programming features of HTML 5 such as Web Socket, Web Workers, Service Workers, Promises and Typed Array.
Well, here are some of the resources suggested by Michael for the HTML 5 developers.
W3C online training on programming web applications – Summarizes the technologies developed in W3C and how they apply more specifically to the mobile context.
Web Platform Browser Technologies
html5please.com : The site helps you to lookup HTML 5, CSS3 features and know if they are ready for use.
Caniuse.com –  The site that gives you the compatibility tables for support of HTML5, CSS3, SVG and more in desktop and mobile browsers.
The post lunch session talks about the,
Newest features of HTML 5 – Device Orientation, Geolocation, Media Capture, Proximity events, Network Information API, Touch events, Battery States and Vibration API.
Features of Gaming using HTML 5: Web audio/video, Fullscreen, Pointer Lock, Touch events, device orientation, screen orientation, game pad API and WebGL (using OpenGL)
Other topics : Adaptive Streaming for video and DRM (Digital Rights Management – licensing for video content), Responsive images, Fixing HTML 5 app cache problems detected by Facebook, Financial Times, WebRTC and web audio, Media Source Extensions and encrypted media extensions.
He also gave brief introduction about the new CSS; Transformations, transitions, animations, filters, masks etc…
Well, that was really an informative talk from Michael.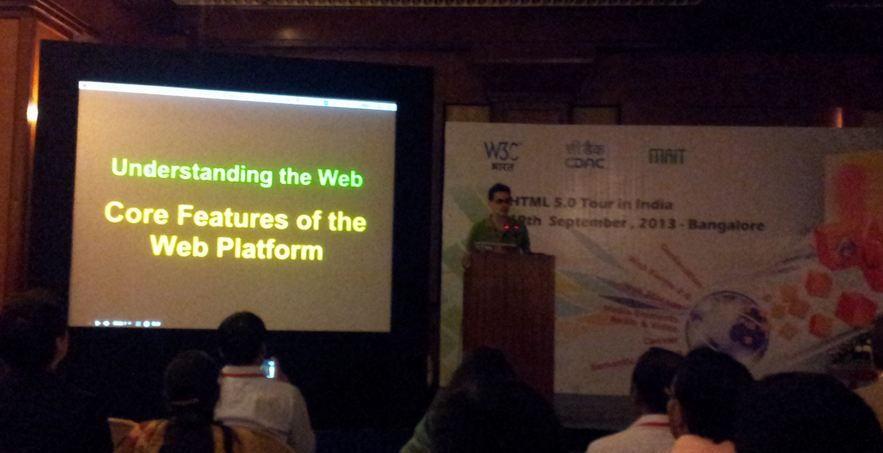 Introduction to Web Accessibility using HTML 5 and Aria
Speaker : Supriya Pal, CDAC Bangalore.
Supriya Pal explained about the usage of role attributes in HTML element to describe semantics better and give accessibility to all kinds of users especially for differently abled people.
HTML 5 – The amazing "Spider"man
Speaker: Neelesh Bodas, Software Engineer, Google India.
This is was one of the pick of the talk during the whole event. Neelesh didn't explain or teach about HTML 5, but he displayed fantastic demos that self explained the power HTML 5. Here are the few,
Bubble Blast : The game was developed completely using HTML 5, CSS3 and some 100 lines of JavaScript, said Neelesh.
Photo Wheel – Photo gallery app using HTML 5 transformations, transitions and animations, Drag & Drop support and the ability to remember the state of transitions.
The photo Booth – The web app that access user's camera using HTML 5 media access and canvas. The demo explained other features of HTML 5; that includes filters and effects such as mirroring, ghost, inverted and filmstrip.
HTML 5 Piano – Another interesting demo, where Neelesh played a "Happy Birthday" tune using the piano created using HTML 5. He said, the sounds are not generated from server but using HTML 5's Audio synthesis API.
HTML Terminal – The app resembled the look of a Linux terminal where you can execute various commands. It was created using 3D JavaScript library for displaying the file structure in 3 dimension view.
Dancing Chrome Logo: You should have been there to watch Google Chrome logo dancing.
Click on this link to get a glimpse of his presentation (Use navigation keys to move around the slides).

"HTML 5 is really fun. I'am excited about it and even you will", said Neelesh.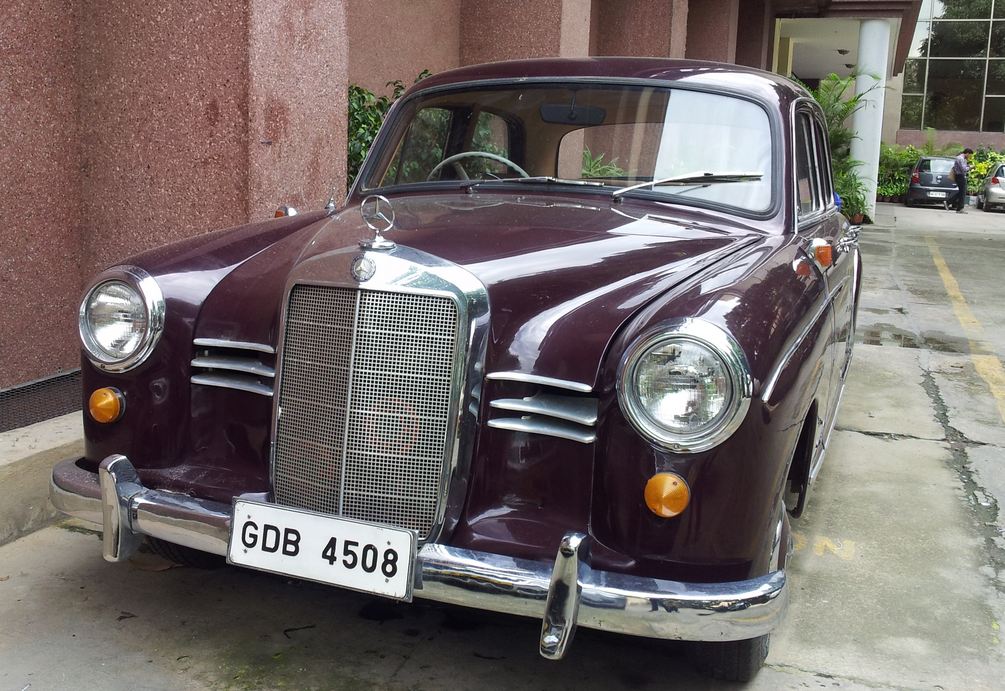 Create Once and deploy to Multiple Platform
Speaker : Raghavendra Ural, Technology Evangelist, Intel (Twitter : @ragural)
Raghavendra's talk was focused on Intel's free XDK toolkit that can help users to develop HTML 5 application and deploy it on any platform. His talk included a demonstration of Intel XDK (preview version), which included Development, Design, Emulator, Debugging and Package and build of the application.
Download Intel XDK here.
Internet Academy – The first school in Japan to be specializing in Internet education.
Speaker : Kent Shikano, Internet Academy, Japan
"I am from Japan. I don't speak good English, so my apologies if my pronunciation were wrong", Kent started his animated presentation with those quotes. But he was fantastic while expressing his views and gave an excellent talk. I would surely say, he made every participant smile at least once during his presentation.
His talk was about WebRTC technology of HTML 5 and how it works to address remote coaching issues.
Web Platform for Smart TV
Speaker : Mr. Sri, Samsung.
Sri gave an introduction about Samsung Smart TV and how it makes use of HTML 5 technologies.
Membership benefits and Closing Remarks from W3C
Speaker : Priyanka Malik, Business Development Manager W3C
Remarks from Priyanka and Alan gave great inspiration to be rolled as a member for the World Wide Web consortium. They believe that capturing Indians voices for building standard technologies is needed for the hour! Want to become a member and get all benefits?! Read more here.
Overall, the event was fruitful and a great learning experience!
HTML5 Demos covered on Techglimpse:
How to parse XML using jQuery, store in HTML5 LocalStorage and read from LocalStorage
How to store data in Browser's HTML5 LocalStorage using Javascript