Be it you run a personal blog, a small website for your company or a big revenue modelled eCommerce, you need a reliable web hosting or a dedicated server to host your website. Choosing a good web hosting service is not a head or tail kind of a game, because it's going to define how your website performs in the internet. So here comes the tricky question, how do I choose the right and reliable web hosting company when there are plenty out there in the market. Of course, it's not an easy job. You need to find a provider who takes all the technical difficulties upon themselves and leave you with more energy and time to concentrate on your business strategy. Today, I am going to speak about one such web hosting provider called Arvixe.
Founded in 2003, Arvixe has grown high to become one of the top web hosting company in the world. It's not an exaggeration, as the company has received numerous web hosting awards from HostReview and Inc Magazine. Interestingly, Arvixe web hosting comes with a unique combination of reliability, quality and more importantly affordability.
Services Offered
The company has plans for every business; Personal Class, Business Class, Reseller Class, VPS Class and Dedicated Class. The service offers both the Linux and ASP .NET hosting on windows servers and VPS, dedicated servers for larger businesses.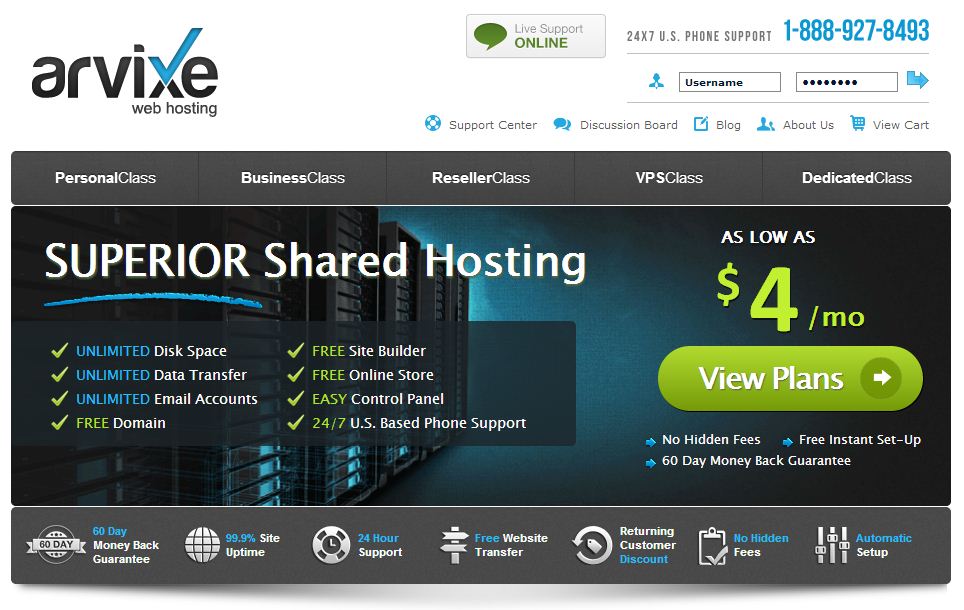 Get a Free domain for Lifetime
Free domain for a lifetime? Yes, the company provides a free domain along with every hosting package. And a catch is, free domain as along as you are a customer of Arvixe. Well, that shouldn't be a problem when you are going with a reliable web hosting provider. Moreover there are plenty of hosting service that makes you pay for the domain. This is a cool goodie from Arvixe isn't?
Advantages of Arvixe
60 day money back guarantee – That says it all. Not happy with the service? No questions, No problems, you get a refund within 60 days of subscription.
99% Uptime – Your website was not up for 99.9%? You get a refund on that month's hosting fee.
Support – The customer service that is available all the time to help you resolve the issues quickly.
Free website transfer – The dedicated team takes all the headache to help you in moving your website from another hosting to Arvixe. It's a free transfer guys!
50% discount for returning customers – Of course, you'll be a returning customer and when you are, you get a 50% discount for life.
Automatic setup – Once the billing is done, your website will be up in less than five minutes. For dedicated servers, the company ensures you get the server as quickly as possible. It's all automatic!
Arvixe Features
Easy-to-use website builders
cPanel control panel
CloudFlare CDN
Frontpage, Adobe GoLive and Dreamweaver extensions
Shared SSL certificates
Shopping carts for eCommerce
One click app installations
Plethora of script library – Blogs, CMS apps etc…
Page redirection manager
Attracta SEO ready
$100 Google Adwords voucher (US & CA only)
$75 Bing voucher (US only)
WebDav
Easy to use File Manager
Unlimited subdomains
FTP accounts
Webmail applications
POP3 & IMAP
Almost all web development and programming tools
Website monitoring and statistics reporting tools
Dedicated IP address.
Do I get some discount coupons?
Do you think, I'll leave you without handing out some goodies? Arvixecoupontips.com provides upto 30% OFF on all hosting plans. All you need is, just pick a hosting plan and apply the coupons.

Visit Arvixe web hosting.