Basically what is Google voice? It's a facility that provides features which will enable you to change the perspective of receiving and making phone calls and text messages. With Google Voice, first, you can have your own unique Google Voice telephone number. So rush now, if you want a fancy one before it's all taken.
Route calls easily to any number
Now, this number is linked to your Google account, thereby routing any call that comes to this number to your cell phone, office phone or Skype phone number. If you plan to get a new sim, you can route your calls to that one. If you plan to spend your time in a remote village with a relative, you can route your calls to that number as well. Well, you get the point. The best part is that it can be routed to any number of phones.
SMS messages
What about SMS, you ask? Well, that's covered too. Give out your Google Voice number and text messages will find you. How convenient!
Block unwanted calls
The next feature is identical to spam mails in Gmail. Getting a call from someone who offers you malignant bank loans? Block them. Do not want to attend a call from your boss? Direct him to voicemail.
Personalize your voice-mail
You can also personalize your voice mail for a particular person to say something sweet. Use this for your sweethearts!
Call Screening
Google Voice offers another awesome feature – call screening. The caller must introduce himself or herself before the call is put through to you. Now you know who's going to communicate with you before you pick up your phone.
Get the calls Transcribed and also Record them
Google Voice will also transcribe your voicemail messages and send the transcribed message to your email account. Need a call as a proof? Of course, you have here the Call Recording feature.
Free calls and SMS
Despite all these features, one is forced to ask (with greed in his/her eyes) 'free calls and texting?' To which I am happy to say, 'Of course!' You can now place calls and send texts to phone numbers using the Google Voice network and not have to pay any charges.
I can see what you're thinking. 'I want Google Voice NOW! How do I get this awesomeness?'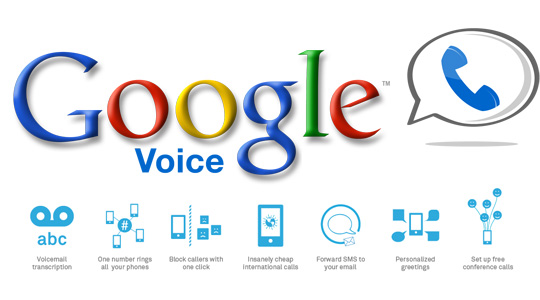 Get Google Voice now!
No problem. Getting a Google Voice account is simple, easy and straightforward. Needless to say, you need a Google Account as a pre-requisite. This could be your existing Gmail account, but it's recommended you create a completely separate account for your Google Voice activity.
Once you have your Google account, go to Google.com/voice and you'll be given the opportunity to pick your Google Voice number and bind it to your smartphone.