Given the almost routinely daily news of how millions of dollars are being pumped into the Indian e-commerce market by bigwigs, Venture Capitalists and Angel investors alike, chances are that you too must have had atleast a small inkling to try and get started yourself. The only problem, for the general masses, being actually creating a great website like Amazon, Flipkart and their ilk and actually getting down to the hosting of it.
Whilst, we are sure that you can recruit some fresh new engineering graduates at meagre salaries today (personal experience, boss), a major issue for all you budding entrepreneurs is finding the correct hosting partner for your new website.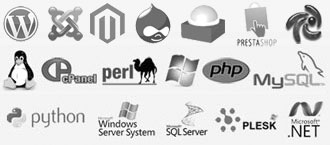 By the above, we don't mean to say that there is a dearth of hosting partners – in fact, the market seems to be flooded with companies providing hosting plans and services for just about any and every website out there : blog, e-commerce, news aggregator, web applications and so on! The problem is choosing the one which is most apt for you. Further, given that you are just starting out, more likely than not you will be in bootstrap mode and trying your best to obtain the best resources at the lowest price too!
That's where this article steps in – to help you choose a partner which suits your needs best.
HOSTINGER.IN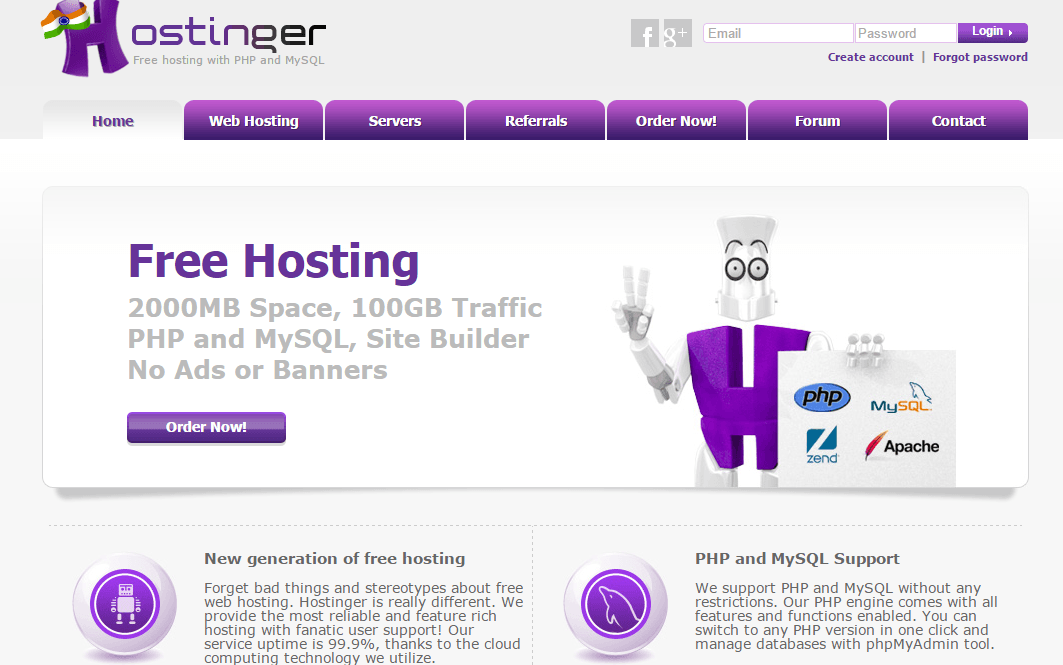 Whether you are in start-out mode or not, Hostinger.in is definitely THE platform / partner for everybody who is creating a PHP/MySQL Website. The reason behind this is a superb offer wherein one can host ANY type of small website – whether they be personal, blog, community or forum. In fact, Hostinger itself suggests that one should only go for the Premium / Business Web Hosting Plans if one has "a large or very busy website and need guarantees for uptime and daily backups".
Some great features of this Free Hosting plan are –
Unlimited Domain hosting (pretty rare for hosting plans under INR 2000 / year)
2000 MB Hosting Disk Space
100 GB of Data Transfer (upload as well as download – and do keep in mind that even when a consumer / customer loads a page, data is downloaded by them)
99% uptime guarantee
2 MySQL  DB
2 Email Accounts
NO Ads displayed by Hostinger.in on your website
Can install up to 50 different scripts / add such as Drupal (CMS), OpenCart (Shopping Cart), WordPress (Blogs) and  vTiger (CRM) for your website
Free website development tools (Zyro.com) with simple drag-and-drop features
PHPMyAdmin tool, Control Panel with all the generic features like DB & Website backup, File Manager (2), Email Account Manager, et al.
Hostinger.in acknowledges your inner cynic's fears with the following statements –
The main reason why we offer this service for free is that we want to increase our Hostinger® brand's popularity and recognition. And of course, just like every marketing and promotion type, it costs money. However, we cover these costs by offering paid hosting upgrades for those who need more resources. Our free service is also user-donation supported.
Further, with a guaranteed 99% uptime (GoDaddy also provides 99.9% only), hosting your new website with Hostinger.in can prove to be quite beneficial for you – even helping you save upto INR 2500 / year for a similar service.
So, go ahead and grab this offer with both hands and as many email addresses as you have! And yes, you're welcome!