The programmable coffee or espresso maker once demonstrated the power and convenience of technology. With a few simple steps, you could set up your coffee to start brewing before you got out of bed. Now this option is standard on the majority of models, and people think nothing of it.
Now, with a smartphone and high-speed wireless Internet, a new wave of automation options for the household are about to become available, and the public appears to be primed for it. Lockitron recently demonstrated the eagerness of the public for this type of product with a successful crowdfunding effort. With an original goal of raising $150,000 in pre-orders, the company racked up over $1.5 million in a matter of days, according to TechCrunch.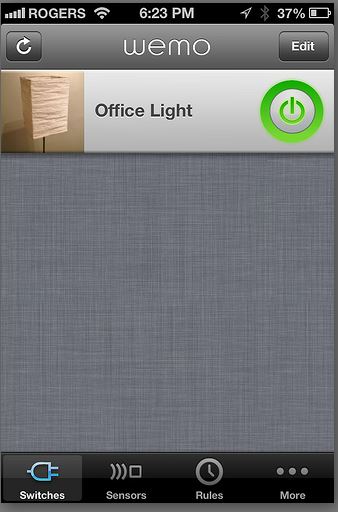 Lockitron
Lockitron has just outed a unique cellphone-controlled keyless entry system, either by your smartphone or going online. It fits over your standard deadbolt and communicates through your wireless Internet. On the surface, the idea seemed interesting, but the company needed to prove that the public actually would buy the device.
Lockitron originally went to Kickstarter to set up a crowdfunding site, but Kickstarter decided to re-orient itself as a crowdfunding option for arts-oriented material only.
This difficulty drove the Lockitron founders to implement their own crowdfunding site, and it worked well. They blew past their funding goal, and proved decisively that the market for home automation — at least automated locks — was quite real.
Home Automation Options
Lockitron will not be released for another few months, but you do have other options. Some of them you may have already heard of, some not. All can be useful in the right circumstances.
Belkin WeMo
The WeMo Switch allows you to program a lamp, coffee maker or other such devices to go on a schedule. The iOS app is free and also lets you control the switches from the office or vacation spot, basically anywhere with data connection.
Smart Thermostats
Newer thermostats allow you to program your preferred temperature for various times of the day. This means you can turn the heat or A/C on the night before you arrive home, or turn it off right after you leave for work. It's more convenient and saves energy.
Insteon vs X10, Zigbee and Z-Wave
A central protocol allows you to set up a variety of devices to communicate with a central system that you regulate. There are at least four major ones, according to LifeHacker. Z-Wave, Insteon, Zigbee and X10 are all options. This requires you to learn your way around the system, but it can be fun and useful if you have the time to install.
The Do-It-Yourself Route
Wireless Internet is also giving consumers the ability to install their own home-security alarms. These systems are easy to get started, and can be expanded or relocated without much effort, according to Securitycompanies.com.
The Home of the Future
Home automation is an option for anybody, and you can make it as basic or as advanced as you like. You can also expect such options to expand in the future as products like Lockitron prove that people have an appetite for increased control over the operation of their homes.
Image by Ben Lucier pursuant to the terms of his Creative Commons license.
Author : Kevin Chung, an accountant and business consultant with a penchant for muscle cars.