If we look back on our childhood, and probably even our parent's, and perhaps even one more generation behind, as children, we all have used a ball to play with. It is easy, cheap and you can even make one with cloth, plastic, clay, rubber or yarn. A ball is not a particular game of its own, that's the beauty. Each of us have our own way of playing with a ball. Some use it for catch and throw, some to play the sports that are well known these days like cricket, tennis, hockey, golf or at least a variation of these sports.
I am pretty sure that everyone have invented their own games with balls at some point. This has unknowingly helped our creative skills. We have learned to create games and play them. But these days, kids play with digital screens, digital technologies and the games for the digital world are already created. You have to learn the rules and play by those rules. You could create one yourself only when you grow up to learn how to code it, by then you'd be a tad old to sit and play it. Also, balls make kids get physical exertion while gadgets don't.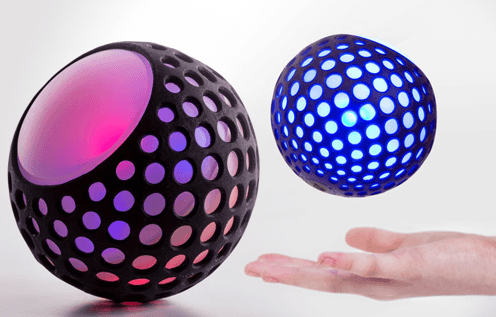 This is why Hackaball has reinvented our favourite play toy- the ball. It helps kids to have a physical exertion as well as use their fascinating tablets and phones. This ball is described as  'interactive, responsive and hackable'. Hackaball consists of a processor and a number of motion sensors to detect common actions done with a ball such as dropping, throwing, catching, bouncing, shaking, still and what not. Apart from these, it also has a gyro, accelerometer, vibration motor, 9 colour LEDs. Rechargeable battery is used for powering it. Memory is provided to store sounds and a speaker to play them.
An App is to be downloaded which can sync with the ball and use these lights, sounds, vibrators provided in the ball. Children can create their own game using this App and keep their own points system, enhancing their creativity, integrating the physical ball with the digital technology they are fond of. The ball is made with a translucent plastic which is provisioned with shock absorption. Therefore, one need not worry about the robustness of the ball or that the processor might be harmed.
Hackaball is currently seeking funding for the fabrication of this toy. It can be pre-ordered at USD 69 and it is said to come out in the markets by December'2015.