Pandora for iOS is a music streaming service and also an online Radio service. The service saw its recent update which adds the Alarm clock functionality to the application. The update is now seeding in the App store for the iPhones, iPods and the iPads. The iPods include only the iPod Touch which has the app store built in to it.
The new app version also has many changes in its User Interface (UI) and this is done to match the looks of iOS 7. iOS 7 has resolved to maintain a flat look compared to its previously very shiny and glossy look. The new OS also brings many features that its previous parts have left out and that include a new and advanced notification center. The control center comes in from the bottom up. This is what they call bottoms up I suppose!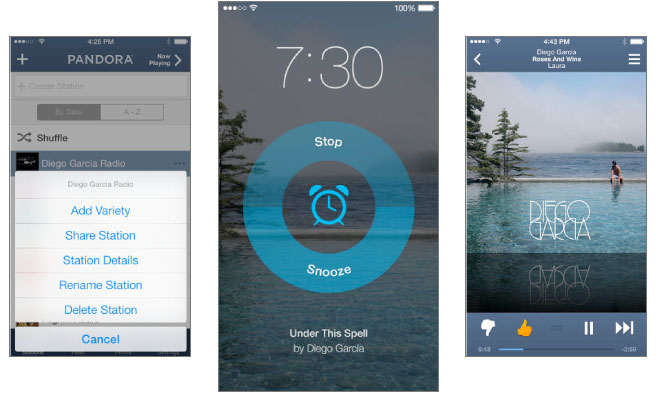 Well, the new app also brings in a flat UI and the most interesting thing about the app is how it can use the different tunes present in the radio stations and you can set the different radio stations to wake you up. You can customize your iPad or iPhone to do just that. Thanks to this, you can now wake up to your favourite music rather than the boring tunes in-built in the iOS. There is also an option to snooze temporarily or dismiss permanently (Just like how an alarm clock works), but, at the same time, you can also allow the music to play. This is a nice addition to the app and this app is sure to make your iDevice stand out of the crowd. The app comes as a standalone download of 32.6MB and is available free of cost. The version gets changed to 5.1. Download it from the app store now.