With new phone comes in new zone! A zone which makes you grapple with questions like-Do I need it? Would I use it? Do I deserve it? (not really) Did I use it? Would it take up a lot of space? Is it dependable enough……well, yes, I can over-analyze the teeny-weeniest of them all and a virgin storage space is something which cannot be taken lightly.
Thou would find thyself at a crossroad when the idea of a web-browser crosses thy mind. The moment you key in a W in your app store search box a plethora of options would flood your screen and that's where your mathematical, analytical, reading, listening…each of these skills come in handy.
What? Don't you count the number of stars the app has been decorated with? Don't you analyze every review you read? Don't you hear customers rant 'bout a particular something on social networking sites? See, I told you so!
If your answer is a resounding Yes, then web-browser is a serious affair for you and investing your time and energy in deciding upon one is always worth. Because a web browser is not only the window to the web-world but it's also a window to the bad-world, so making a safe choice is mandatory. (Ignoring my patronizing tone) Concentrate on Browsy-a user loving web-browser.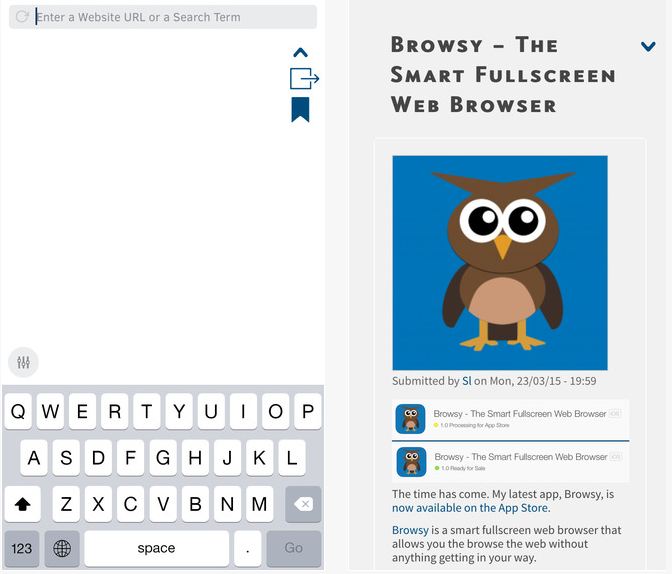 Why should I get Browsy?
Because the web-browsing industry can be categorized into two -Browsy and the rest. What sets Browsy apart from the other web-browsers, is its capacity to render a sea of possibilities to its users.
Do you know of a web-browser which would let you view websites full screen? A browser which would let you navigate only by way of gestures? A browser which wouldn't wear you down by requesting you to key in your password every time? All this with a safety blanket on? Browsy, my boy, Browsy!
You've gotta love Browsy because…
It is developed by a DuckDuckGo personnel. So you know he knows the security rope well.
You wanna know who is Browsy's Omnibar? Yes, DuckDuckGo. Security and security making a pact can only result in one thing-security.
It comes 1Password integrated. Dependability's home name.
Bookmarking is a breeze and viewing the bookmark pin board is just a username and API token away.
Its full-screen. You already know that but then that's what the word bigger does to all of us- makes us sound like a broken record.
Your screen never droops its eyelids once you set it right. Meaning you can have some good uninterrupted owl time every now and then.
And if you dig HTML prototypes then you can access and use them as well.
Developer or Designer? Preview and interact with HTML prototypes easily on your device.
It's Framer Studio and Markdownify Action Extension activist.
May it be the exulting feeling of listening to streamed music while using another app (or ,with a locked screen) or the knowledge of handing down a phone with a secure browser to your kids or hearing the familiar voice of Alex, Browsy is a treat for all iPhoners.