Samsung has decided that it needs to contribute something or most likely everything to the Changes in technology. It is making new things to suit itself and make the competitiors unstable. Unstable may be too harsh of a word but should be apt in this case.
Samsung has decided to change in camera sensors and compete with the Finns- Nokia, challenging its sensors and camera technology. Samsung has decided to go for a 16MP camera and the new technology will be called ISOCELL.  According to Samsung, Isocell advanced pixel technology increases a camera's light sensitivity and is able to better control the absorption of electrons, which results in high-color, sharp images even in poor lighting conditions. There's no mention of optical image stabilization in the slide, but we're hoping that it it will make an appearance in the next Galaxy S flagship. The ISOCELL technology is said to be better than BSI.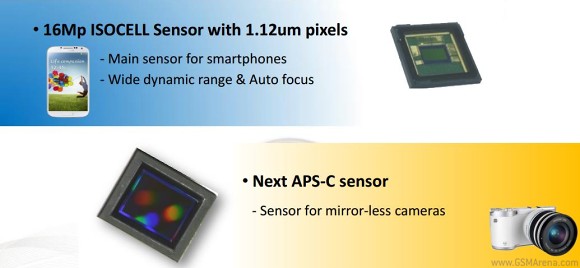 BSI -A back-illuminated sensor, also known as backside illumination (BSI or BI) sensor, is a type of digital image sensor that uses a novel arrangement of the imaging elements to increase the amount of light captured and thereby improve low-light performance. The mirrorless cameras have a different sensor which will also be similar to ISOCELL in technology. The mirrorless interchangeable-lens camera (MILC) is a class of digital system cameras. This type of cameras provide interchangeable lens mount. They do not have a mirror reflex optical viewfinder. Lets wait and find out how they fare against the competition!