You have spent a humongous amount of time and effort on filling an online form. As you're just about to click the 'submit' button, the browser crashes. As you're just about to click the 'ok' button, the computer goes wild and shuts down. As you're just about to click the 'register' button, and the poorly-coded website just refreshes. Oh no! you have to retype every value and press those tab keys rigorously. But no, Lazarus has been there for me each time.
Here's how you can use Lazarus to avoid extra work. Lazarus is add-on for Google Chrome and Firefox browsers that saves everything you typed and if something goes wrong, it can recover the whole form by clicking the menu item. Oh what? The extension saves my data? Well, the data is encrypted and saved on your machine.
Step 1: Just head on to the link provided at the bottom of this post and Install Lazarus extension or search for Lazarus Form Recovery in Google Chrome store. The Firefox users can go to the Lazarus Form Recovery add-on page and click on the "Install" button to install the add-on and when the pop-up appears press the install button again.
Step 2: Open up any text form you want; for example when you want to write an article in WordPress, start writing and look for an ankh symbol next to the text area. The ankh symbol usually appears in the top right corner of the box.
Clicking on the ankh symbol will reveal all the text that the add-on has stored under the symbol. Choose the text you want to fill the box with. The text that you choose will completely replace any written work that you already had.



Step 3: Configuration
The options for Lazarus are configurable and that can be done by clicking on the symbol in the URL bar or by clicking on the ankh symbol and choosing 'Lazarus Options…' There you will see four options.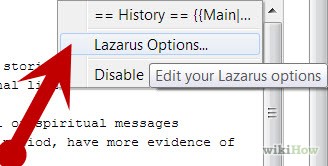 In the general tab, you can choose to enable Lazarus and show the icon in the URL bar or not.
In the security section, there are extra options for security. You can assign a password so that you can recover any text only with prior authentication.
You can choose the database tab to rebuild the database. Click on the "Rebuild the Database" button and a green pop-up will appear with "Success Database rebuild".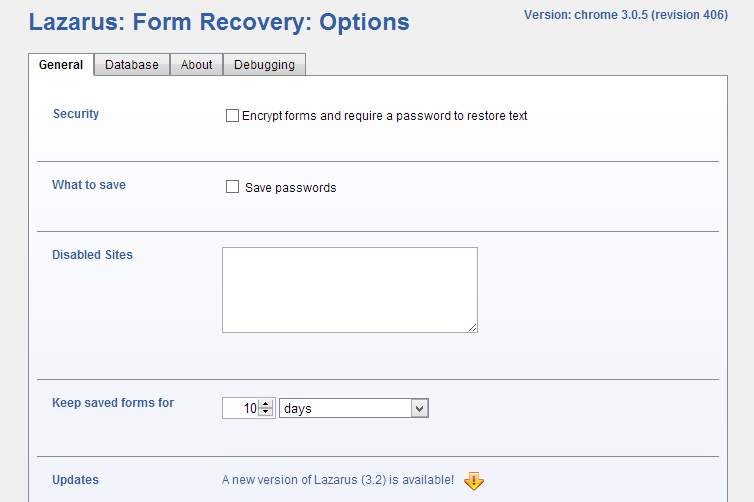 Overall, Lazarus extension will definitely save you from those ohh!! moments. Thanks to dragonmouth for bringing notice about the unavailability of the Lazarus Form Recovery extension in the Chrome web store. I have updated the below link for their Github repo.
Lazarus Form Recovery extension and Add-on.