Recently there was a long office meeting which was running for hours in which I had to prepare minutes of the meeting. Writing notes and listening at the same time for long hours is overwhelming. I was in search of a good screen recording application or preferably an extension.
Only then to my surprise I got to know that screen recording also comes at a price! The ones that have all the features like, screen recording, voice capturing and system audio output will only give you 5 minutes of free time. But I had a 3 hour long running requirement.
After searching for long, I came across one chrome extension that fits my purpose. This screen recorder can record your screen and all audio for hours together and give you in the video file in webm format.
Installation
Installing this extension is simple like any other extension. Click this chrome store link and add it to your browser.
Usage of Screen recording extension
Click on the icon of your extension and say start recording, and that is it!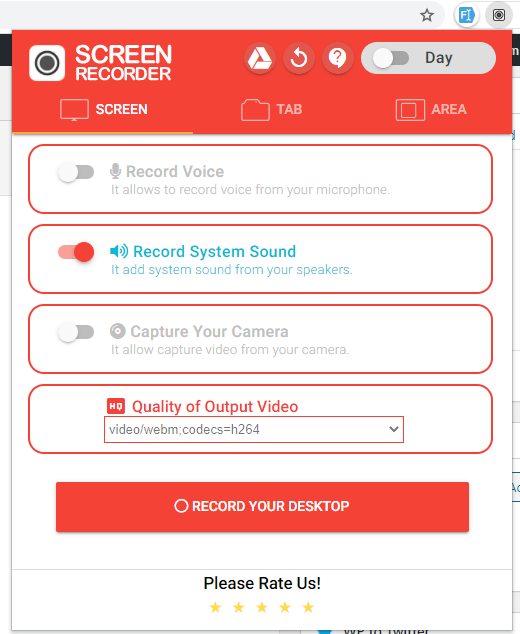 Available options
Entire screen capture
Tab capture – specific tab in your browser
Area capture
Record system sound – Check "Share audio" checkbox if you want record system sound, and then click "Share" button
Your camera feed
Voice input
Choose output video quality
Save to local system
Save to drive
Drawbacks
Sometimes the video took long time to save. But it did save every time without issues.
The output is the latest video format but its not seek able. I have covered in a seperate article on how to make the video seek able.
All in all, this is a very much useful free extension, among the ones that come with a price.