I have been using WordPress for quite sometime, but I had never thought of optimizing the database. The reason, it seemed bit complex (involves running MySQL optimization commands or queries) and the next obvious reason is the fear – what if those commands or queries disturb the database? Not anymore! I recently came across an useful plugin called WP-Optimize, a WordPress cleanup and optimization tool that only takes one click to do the job.
Why you should clean up WordPress Database?
Well, no user stays longer on a slow loading website and it's quite important to impress Google as well. Generally, WordPress stores post revisions, comments including unapproved, spams and the ones in trash, stale metadatas, trackbacks, pingbacks, transient options etc…leading to database overhead. Cleaning and shrinking the database will improve the database performance and free up disk space as well.
What Wp-Optimize will do?
As I told in the first para, Wp-Optimize helps to clean up unnecessary data and optimizes the database. Here are the features of the plugin
Removes Trackbacks and Pingbacks from all published posts and pages
Removes unapproved comments, spams and those in trash
Removes posts revisions of all published posts
Removes unnecessary meta datas.
Removes  transient options.
What is Transient options in WordPress?
Transient options are part of WordPress cache system that helps to load your site faster by storing the values of complex queries. It means, the system or a plugin doesn't need to execute those complex queries again & again, but can make use of the stored values. All transient options are associated with an expiry time, but gets deleted only when requested again after they have expired. It means, many transients are left undeleted in the database consuming space. So deleting those expired transient options is actually a good idea. What if I delete the valid transient option? No worries, as it will not harm your database and moreover WordPress will recreate them if it doesn't find one.
Optimizes MySQL tables without the need of running complex queries or commands.
Displays database statistics and how much space you will gain after optimization and cleanup operations
Removes auto draft posts
Only the privileged user can operate the plugin.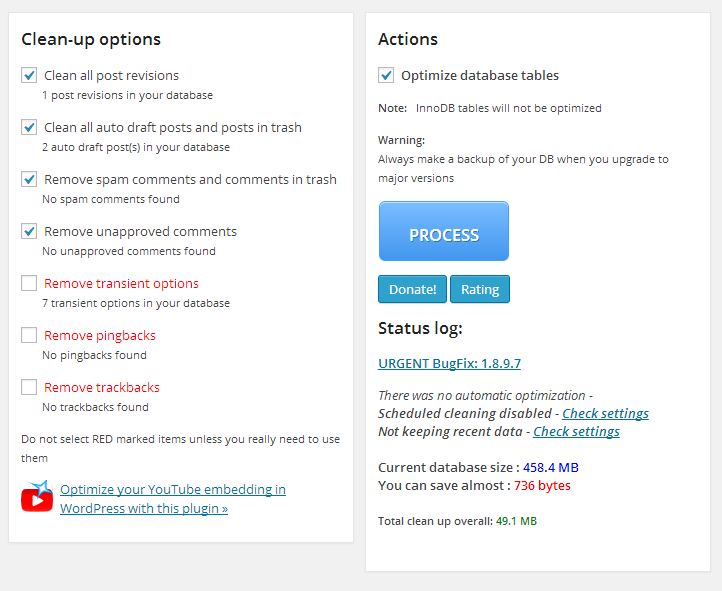 How to Install Wp-Optimize Plugin?
Note: It's advised to take a backup of your database before running the optimization.
Download, Install and Activate the plugin
Checkout the various options in the plugin dashboard and choose carefully.
Take a look at the Settings, where you can customize the auto cleanup and optimization.
Advantages…
Smaller database size helps your site load fast
Taking regular backup of your site is a good practice and that becomes quite easy when the database size is small isn't?
Bonus…
Download Free ebook on WordPress Optimization and Customization!