'Private Browsing' feature is one of the most notable security improvement in modern web browsers. Almost all the web browsers including internet explorer has this feature and it comes handy when you want to protect yourself from being tracked by search engines, analytics, tracking advertisements and social networks. Although the functionality of "Private browsing" is same on all web browsers, it only differs in the way "private window" is opened. For example, Chrome web browser will allow you to run Incognito window and normal browsing window side by side. Whereas in Firefox, when the private browsing is invoked, the normal browsing session will be saved and a new private browsing window will be opened. It means, you can only use one browsing session at a time. Probably that's a lack of feature in Firefox, until I came across this wonderful add-on called "Private Tab". Private Tab add-on lets you to run both the normal window and private browsing window at the same time and interestingly you can have normal and private tabs in the same window. Sound's cool isn't?

"Private Tab" is an add-on for Firefox web browser 20.0 or later, SeaMonkey 2.17+. Note if you are using an older version of Firefox, then you will have to wait for sometime, because "Private Tab" uses an API that doesn't exist in older versions of Firefox.
Once the "Private Tab" is installed, the add-on will add a "New Private Tab" option to the Firefox menu. Clicking it will invoke a private tab in your current browsing window it self. You can also choose to use hot-key "Ctrl+Alt+P" to launch the private browsing tab.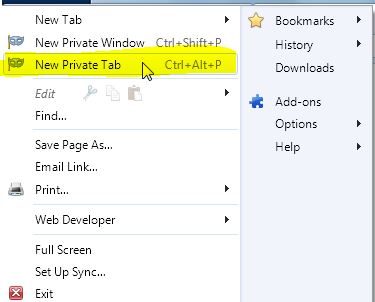 When you move cursor over the private tab, the tool tip popup will indicate that this tab is a private browser and at the same time, you can also notice the title turning to have underline. You can choose to drag the private tab out of the current window to have it as a separate window, of course it will be private throughout its life.

Even though the "Private Tab" opens in the current normal browsing window, it will never store the history. Checkout the image below,

Another cool feature of "Private Tab" is, it allows you to right-click on any link and open it in a private tab. What makes the add-on so impressive is, it lets you to run both the normal browsing session and private tab session on a single window, without the need to switch between different browser window.
I'am a big fan of Firefox and I definitely love this add-on. Are you like me? Then go and grab the add-on here.