Your Online Privacy has been invaded by the top Internet giants such as Google, Yahoo, Facebook, Twitter and Bing. They make huge money by tracking what people do online. To start with, how many of you were comfortable to see your name and photograph being used in Google's Shared endorsement advertisements?
Most of these Internet companies have updated their Terms and conditions, privacy policies to use your Likes and reviews to showcase their personalized advertisements.
It's your data, It's your likes, It's your reviews, but it's used by someone to make big money. That's not fair! With the help of Mashable, we are listing down those services that tracks your data and fortunately given a way to Opt Out of it.
Opt Out of Facebook Social Ads
Facebook Social Advertisements uses your actions such as Liking a page, along with an advertiser's message. And the people who are going to see the Ad is the same person with whom you performed those actions, up to a maximum from your friends circle.
To pull you out of Social advertisements, click Settings gear > Privacy Settings > Ads and click Edit under Ads and Friends (Opt Out link). Now select "No One" in the pull down menu next to "Pair my social actions with ads for" and click Save Changes button.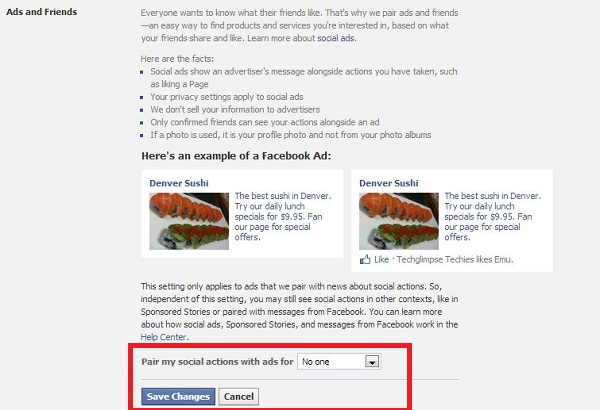 Opt Out of Google's Interest Based Ads
Google Interest Based advertisements are really intelligent. They pull your search history and web profiles to analyze your interest and displays tailor made advertisements. To Opt Out, go to Google's Ad Setting page and scroll down to Opt Out Settings and click Opt out link.

Opt Out of Google's Shared Endorsements
Google Shared Endorsements loves your +1s, YouTube likes, reviews on Google Maps, reviews on Google Play Store and uses those information to decorate advertisements for your connections. Do you want that?
To Opt Out, head on to your Google Plus preference > Shared Endorsements in Ads section and un-check the check box next to "Based upon my activity, Google may show my name and profile photo in shared endorsements that appear in ads" and click Save

Opt Out of Twitter's Tailor made Ads
Another Internet giant joined Targeted Ad campaign, that matches your profile information and tweet archive to relevant advertisers.
To Opt Out, jump to your profile and click Settings gear icon > Security and privacy. Scroll down to "Promoted content" and un-check the check box next to "Tailor ads based on information shared by ad partners" and click "Save changes" button.

Opt Out of Personalized Search
Search Engines keeps track of your search items, analyzes and uses it to display targeted advertisements and also to provide you with relevant search results. I agree that this techniques provides fine-tuned search results to you, but who knows whether the results are cooked up to have keywords that are relevant to available advertisements?
Click on the below links to Opt Out from Popular search engines history tracking.
Opt Out from Google Web History.
Opt Out from Bing's Search History.
Opt Out from Yahoo's Search History.
Third Party Cookie Tracking
Learn How to enable Do Not Track feature in Firefox Browser.
Learn to Limit Targeted Ad Tracking in iPhone and iPad
Learn to Keep your system clean and secured by deleting Internet Tracking data
Twitter announces "Do Not Track" feature for Firefox users
Someone makes Big Money by Tracking What you do online, Learn to Stop them