The evolution of computers is probably much known to everyone. From huge boxes that occupied almost an entire room, our computers have now stepped down to a simple screen. But then through this evolution of minimizing the internal circuit size, we probably left a little thing behind. Our keyboards. Yes, they did see various changes in years from becoming wireless and easily commutable to becoming a small part of your touch screen. Yet how fast you can use your digital keyboards to type your message is still probably a question you would love to skip – or you possibly never found an answer to it.
From corporate world to personal work environment, an important part of your PC is keyboard. Using them is simply unavoidable. But the new period of technology has minimized devices to smartphones and tablets. And it is quite not possible to have the same typing efficiency and speed on a digital keyboard as on a virtual one. There has still not been much improvement overall on our typing speed in digital keyboards. And that's exactly what bothered WayTools who eventually stepped ahead to launch TextBlade. It is a whole new level of Bluetooth keyboards on board.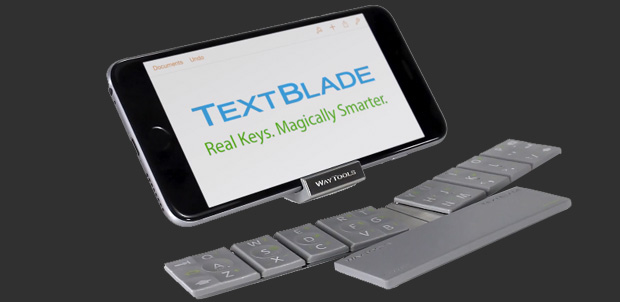 Sharp and precise typing is quite a simple task now with Text Blade. The device is simple and elegant taking a little space of your pockets. It is very easy to commute and of course much easier to use with your smartphones and tablets. Text blade uses the patented multi-touch technology that enables the user to type with much comfort.
TextBlade consists of three modules of keys and is all the size of chewing gum sticks. Arranging them in the right order, the modules snap together to form the complete keyboard. These modules consist of a space bar and four ultra smart keys each, which enable you to type with ease. These ultra smart keys have the capability to hold from 6 to 12 characters in each key and are based on our smartphone multi- touch technology. Also Waytools delivered what they refer to as 'MagLever' technology that gives you the feel of using a conventional desktop keyboard but just minus the mass.
The device gets connected to your phones or tablets using Low energy Bluetooth sensing and lets you enjoy the benefits of touch screen without any barrier. These keypads use precision MagLever mechanisms in order to deliver quality feel .The space bar has been devoted the maximum space as it holds the lithium polymer battery that charges. Also a completely charged device is said to run on battery for about a month subjected to normal usage.
TextBlade weighs about 4.2 grams and is the most sleek and useful QWERTY device till date. It is almost the size of your iPhone 6 and for sure has a reason valid to occupy your pockets. This is a whole new class of device that has the capability to deliver professional grade performance with iPhones and tablets. The recent years have seen the beginning of smart touch devices that can make life much easier and compact. TextBlade adds an advantage while handling smart devices making them more user friendly and useful than ever before. The Era of smart typing begins here!