When you are working on several issues at once and you email people back and forth regarding those issues, then enabling threading on your Thunderbird is very useful. Threading keeps your emails grouped together and makes it as a single conversation. If you ever used Google's Gmail service, you'll be very familiar with threading, since a message and your replies appear together as a conversation. In this tutorial we will see how to turn on/off threaded view in Thunderbird.
1. Turn ON Threads view in Thunderbird:
If you want to have your messages at your inbox threaded together, here's how to turn on threading:
Open Thunderbird
Click on the folder you want to thread (ex: Inbox)
Go to View > Sort By > Threaded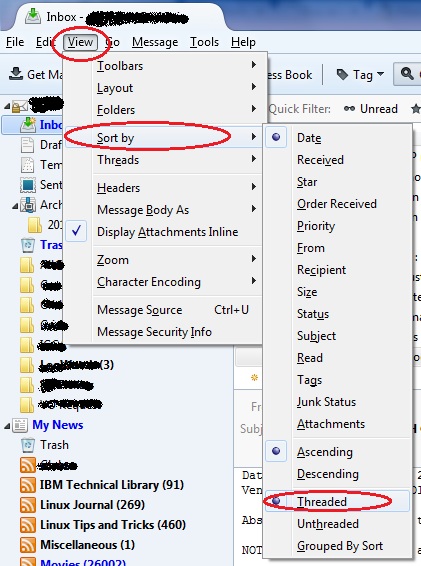 Each folder can have separate threading preferences. So you need to enable threaded view for all those folders you need it.
2. Turn Off Threading in Thunderbird
If, by some chance, you have turned on threading, and now you want it to turned off, follow the below procedure :
Open Thunderbird
Click on the folder that is threaded
Go to View > Sort By > Unthreaded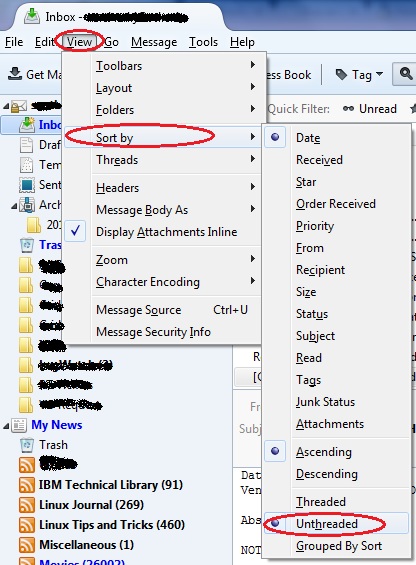 Viola, threading is turned off for that folder.