Will you not be happy if  I say that there is an application to combine your shopping efforts at one place, option to safe atleast 15-20% on your shopping, no need of searching coupons here and there and most importantly the ease of shopping online?
The ValueTag comes in with all the features of shopping you can imagine, it gives you the best price of a product on a touch and you don't have to see various websites for the best price, it links all the well-known shopping masters in a single loop of shopping cart.
You can get the prices from various shopping sites such as Amazon, eBay, Croma, Flipkart, Snapdeal and many more.  The app comes with coupons, offers and the best price added for each product belonging to any of the well-known platform.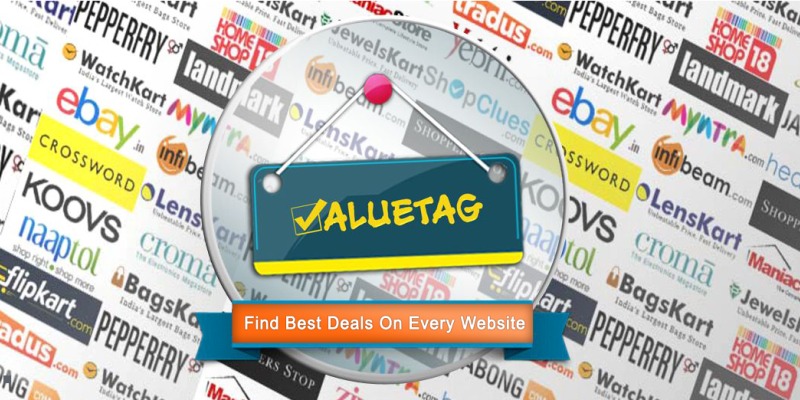 It also gives you the barcode scanner option which can be of immense importance, For eg- You are in a mall and you are buying a dress for your girlfriend but you don't know whether the prices given by the shopkeeper is fair or not , you can just scan the barcode of the product and get the best price through this awesome app. This app can be your all in one shopping mart, use this freaking app and be a smart online shopper.
Download Value Tag app for Android now!
For those who love to use Desktops, here is another nice option!
ValueTag Google Chrome Extension
ValueTag also has the Google Chrome extension that helps you make your shopping experience simpler and easier on the desktop. All you need is to download the extension and then go to your online store, whenever you hover over the product, on the right top you will see the value tag icon that let you know prices of that product on different sites, the best price also pops up on the top of the screen. The extension is pretty handy and it combines all the well-known sites used for the shopping experience.
Download ValueTag for Chrome!-
Verdict
Whether you are using the app on your smartphone or the extension on the desktop, both the things provide coupons and various best offers to make your shopping less expensive. This is a new application and the extension is also very helpful in getting 15-20 percent of discount on each shopping experience.
Another good thing about the app is that, the coupons are selected automatically according to the prices offered at different sites, this will help you decrease your time and efforts in searching the best available coupons for the product. Try it out, it is awesome for the people who are shopping crazy and it can play an effective role to save your little bucks.