Ever wanted to know some real details about someone who has mailed you or wanted to know about them before starting to contact them over mail? There is a simple way, just use the search engine and find all details! But I guess you will be interested in a simpler way which we are going to see now!
Yes, its about a new service called Vibe which can list you all information about your email contact right away. Vibe comes as a Chrome Extension and is available as a standalone application for Mac.
How does Vibe Work?
Vibe looks up the popular social networks(Facebook, Twitter, LinkedIn and Google Plus) with the specific email-id via APIs and retrieves them. This data includes the persons picture, name, address, working organization, biography and recent twitter topics.
And yes, the content for many emails were not full and its sure that the extension will get more data as time rolls by.
How to install Vibe for Chrome?
Head on to Google Web store and install Vibe.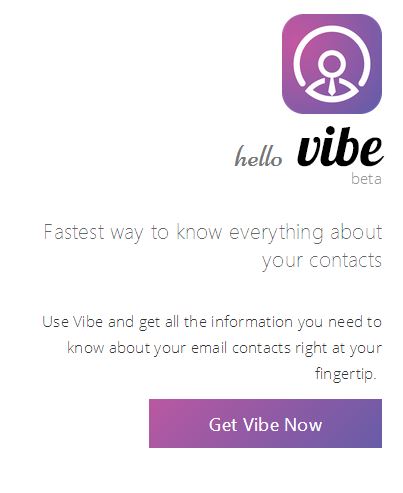 Accept permissions.
Its clear that Vibe is for emails, so obviously it works like a charm with Gmail. Refresh your Gmail page after installing Vibe.
Just hover on someone personal email-id, you want to look-up and wait for the details(I had to look-up Zuckerburg's details!).

A pop-over like frame appears on the top of your browser with the details.
Check out the video on how Vibe works!
Is Vibe Free?
Yes, Vibe is free but, for a limited period of time. With the free version you can look-up upto 30 people for 30 days and after that, you can only look-up 10 times a month. If you wish to have more you will have to pay $5 for 1,000 look-ups (30 days), or $25 for 9,000 look-ups (180 days). And yes, Vibe is also planning an extension for Salesforce CRM sooner.