Google Chrome was my favorite browser until last night, because the browser's performance has gone bad over the months and that forced me to use Mozilla Firefox (the next best alternative to Chrome). Well, this article is not about the browsers, but the difference in using WordPress editor on Chrome and Firefox (in terms of Proofreading content). In Chrome, I didn't use any extension for checking spelling mistakes while writing posts using WordPress Editor, as I just need to right-click and correct spelling mistakes (quite easily!). But I couldn't find the same feature in Firefox – thus, I had look out for a plugin or an add-on for it. So, here I'm going to show you a plugin and an extension for Firefox browser that allows you to check for grammatical errors and spelling mistakes right inside the WordPress Editor.
Add a Spell checker button in WordPress Editor
We'll take help from a plugin called "TinyMCE Spell-check". All you need to do is, download the plugin and unzip it inside the plugins directory. Once activated, the plugin will add a spell check button to the editor. Quickly navigate to Users > Your Profile and under the "Proofreading" section, customize the options and "Update Profile" button at the bottom. The important options to note are – Automatically proofread content when a post or page is published and proofread for grammar and style rules.

In the Editor window, you can simply click "Proofread Writing" (ABC with tick mark) button and the plugin will do the proofread check on your content. Once done, you can simply click on the misspelled word and correct it from the menu.
After the Deadline browser extension
Alternatively, you can use an extension called "After the Deadline", which uses artificial intelligence to perform spell check, grammar and style rules. The extension does not only work with WordPress Post Editor, but can used to perform spell check in your social media posts, emails etc…
Note: The extension is also available for Google Chrome.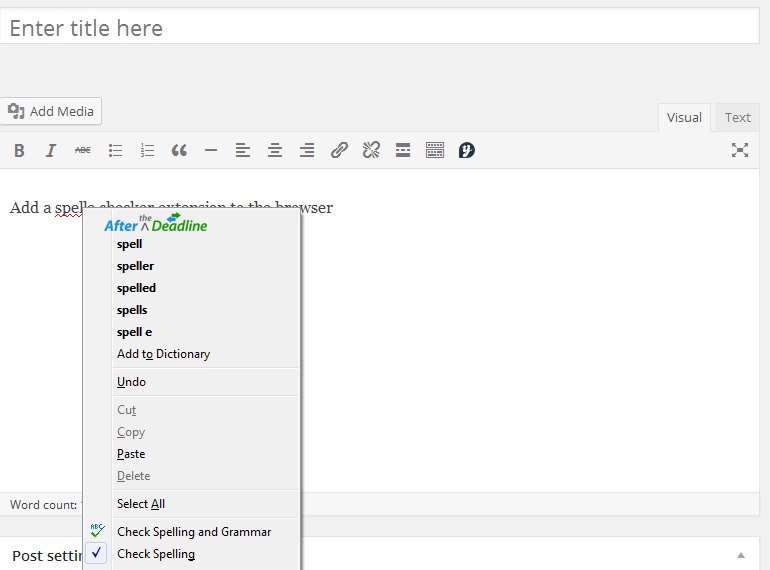 That's it!
If you like this post, please subscribe with us using the Subscription box at the bottom or Follow us on Twitter.