Fix Custom option is disabled no YARPP templates were found in your theme
Question: I have been using YARPP WordPress plugin for displaying related posts in my website. The plugin comes with options such as List, Thumbnails and Custom. I tried using both the List and thumbnails display options, but the Custom option was disabled and when the mouse is moved over, the tooltip pops up with a message – This option is disabled because no YARPP templates were found in your theme.
How to enable Custom code option in YARPP plugin?
Settings > YARPP, under Display options: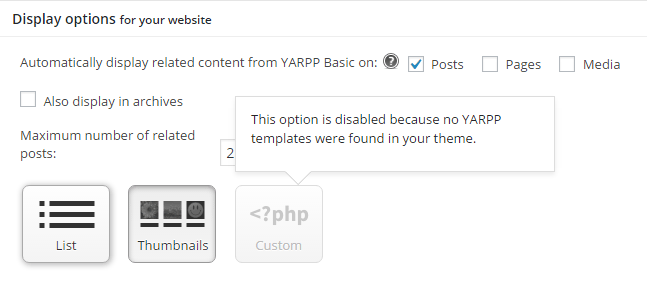 Solution:
In order to use custom option, YARPP needs templates files copied to your theme directory.
Copy the template files from the YARPP plugin directory as shown below:
# cd wp-content/plugins/yet-another-related-posts-plugin/yarpp-templates/
# ls
yarpp-template-example.php yarpp-template-photoblog.php
yarpp-template-list.php yarpp-template-random.php
yarpp-template-multilingual.php yarpp-template-thumbnail.php
cp * wp-content/themes/myTheme/
That's it! You should see the Custom option enabled in the plugin page as shown below: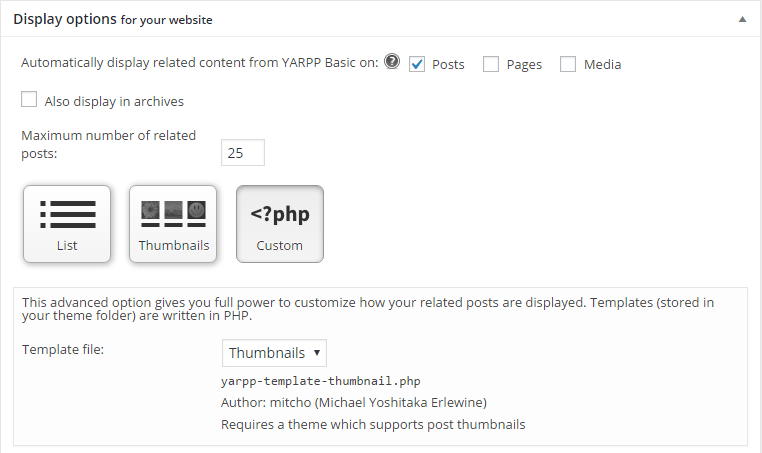 You may customize the template file to your needs.
Related Content
Disclaimer: The content published in this article is the views of the author only. Techglimpse does not gurantee accuracy, completness or validity. If you believe the content on this post violates your copyright, please send us a mail for removal.
Read more
.