Ever wanted to share photos secretly on Facebook? Your answer must be an yes and what you might have done is to restrict it from public view and give access only to your friends. But here is something here more specific for you here!
The Secret.li app for iPhone would allow you to share photos secretly by adding a 'filter' to your photos and share it on Facebook only to selected friends. The photos thus shared with a safety filter intact can be seen only by the authorized person, anyone else who clicks on the image will not see the actual image, but only the filtered one. Also Secret.li allows you to add an interval until which the image can be viewed. After the interval period the photos will be  self-destructed!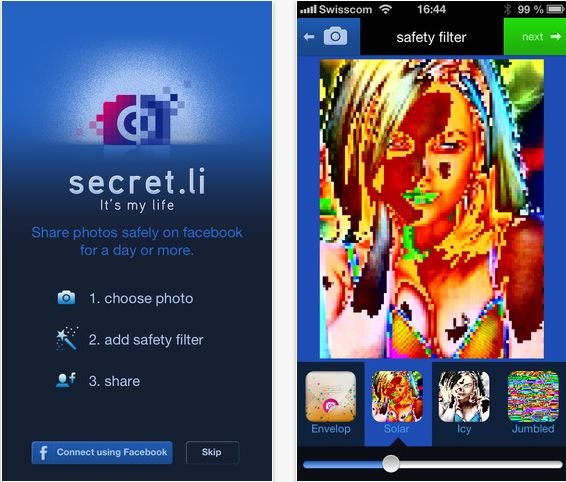 With Secret.li you can add photos from your library, Facebook feed or your camera by snapping a new one. Then you could login to Secret.li with Facebook and choose one of the filters available, to apply to and also manage its intensity. Then you can enter your personal message,  choose expiry interval and share it! If you want to notify your friends about the new image, the app allows you to notify them via Facebook message.
Do you like it?! Then have a try. Get the app from here!