What you should do every time when a new jailbreak is released or every time when Apple releases new iOS firmware? Well, you should save your SHSH blobs. If you don't save SHSH blobs, then downgrading the firmware is not that easy. Saving SHSH blobs is not that difficult, you can do it easily with an easy GUI interface of TinyUmbrella.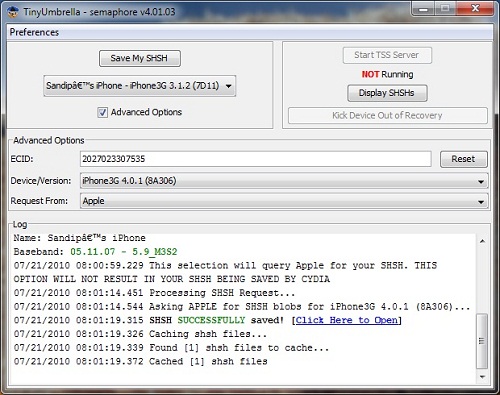 Ok! Here we go,
Step 1: You can download the TinyUmbrella for your operating system.
Step 2: Once the Tiny Umbrella is downloaded, just double click the app icon to execute it. Be patient until the app is launched completely.
Step 3: Now connect your iOS device (iPad, iPhone or iPod touch) to PC.
Step 4: In the Tiny Umbrella's interface, find your device in "connected devices" and click advanced tab.
Step 5: In the advanced tab, Un-check the below options:
Step 6: Verify the save SHSH directory or change if you wish to.
Step 7: Use the Log tab to keep track of the save process.
Step 8: Click "Save SHSH" to save the SHSH blobs for iOS 6.1. Tiny Umbrella will save the blobs to the directory selected for backup.
If everything went on well, Tiny Umbrella should prompt a message as "SHSH SUCCESSFULLY SAVED". That's it! Now you can verify the directory chosen at Step 6, for the SHSH blobs. Remember to name the blobs properly, so that you can identify them easily.
These steps will work only for current firmware that Apple is signing. It means, you can't  retrieve previously saved SHSH blobs that Apple is no longer signing. In case if you choose to do that, keep the options that we unchecked in Step 5, checked.
Download Tiny Umbrella.