Facebook keeps introducing new features, while some were welcomed by users and some thrown to the other extent. For example, you can name the timeline feature; which is still below the appreciable line. In the similar line, Facebook has introduced a new feature in its messenger app – the read receipt, which is an invasion of user's privacy. But if you had jailbroken your device, then you are on luck. A new jailbreak tweak called FBMessengerUnseen, allows you to read any message on Facebook Messenger app without the sender knows that you have read it.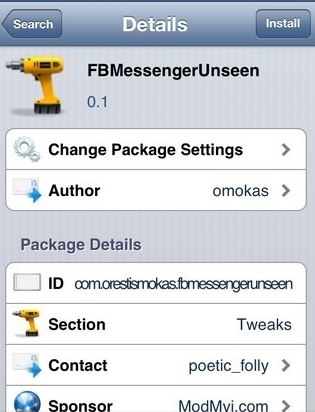 Once the tweak is installed, it automatically makes changes to the Facebook Messenger app. The trick here is, FBMessengerUnseen always keeps the messages as unread in the messenger app, so the sender will never receive the read receipt. But remember, the FBMessengerUnseen will work only on Facebook Messenger app and the messages read on official Facebook client will still send out the read receipt.
FBMessengerUnseen is available on ModMyi repo of Cydia and its free. Do you like read receipt feature in Facebook Messenger app? Let us know your thoughts.
Checkout more Jailbreak tweaks here…