Do you want to browse the internet privately? or do you want to access a website that was blocked in your location? Whatever might be your need, Faceless.ME can come handy. It's a free windows application that can keep your internet surfing safe and secure. Faceless.ME is a VPN application that will hide your real IP address and prevents anyone from tracking your activity. All you need to do is, just head on to the link provided at the bottom of this post and download Faceless.ME application. During the installation, make sure to uncheck "Install Faceless community toolbar", as our aim is to install only the VPN application.
Using Faceless.ME is quite simple, as the interface is going to look lot similar to other VPN's. Launch the application and click connect button. The app stays quietly in the system tray and upon double click displays a dashboard, which shows your actual IP address, ISP location, VPN IP address and its location.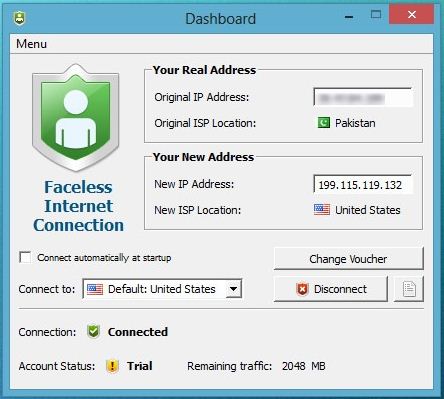 Faceless.ME is available as two versions; the free version only assigns USA based IP addresses and have a limit of 2GB monthly traffic. It's also supported by advertisement at the top of the browser. The pro version doesn't have any limit and the subscription offers are $19.95 and $29.95 for 3 months and 6 months.
ALSO READ: How to access websites blocked by Government using Piratebay's web browser?
Faceless.ME constantly monitors your bandwidth usage and display the remaining volume in the dashboard. The user can also check the logs of his or her activity.
Download Faceless.ME