Intel and McAfee have collaborated on a new browser plug-in and Facebook app called Social Protection. Starting at the end of August, Social Protection would throw a thicker wall of privacy around your photos; intended to protect the digital content you own so that only your friends can see it. The plug-in will first be available for Internet Explorer, Firefox, and Chrome on PCs at the end of August, with support coming for Macs soon after and for iOS and Android by the end of the year.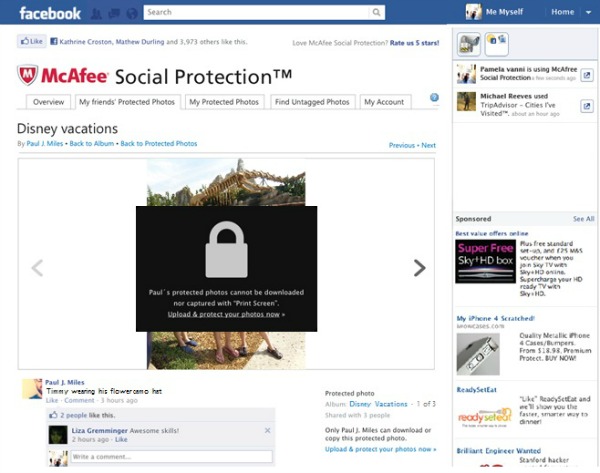 The browser plug-in shows your photos as blurs – until your recipients also install the plug-in. But this will require browser restart after installation, and then it pixelates photos you post to Facebook, and also requires your friends to install it to restore them to normal. In final form, it will exist for free for people who just want to view photos. Social Protection will prevent people from downloading or sharing pictures and capturing a screenshot of the image, displaying a padlock icon over the picture if someone makes an attempt.
But one of the product's interesting features won't be available live with the first public beta release: a facial recognition tool that can identify untagged photos of you. Once Social Protection finds such a photo, you'll be able to tag it and message your friend about the photo — presumably so you can ask them to take it down. A third option lets you go nuclear and report it to Facebook.
McAfee is opening the product to the public as a free beta as company is seeking user feedback – that could change course based on what people think of Social Protection.