How many times you scrolled the wrong window? It happens to everyone and especially i have experienced this annoying behavior many times. Normally, when you roll the mouse wheel, the windows will always scroll the current active window or an element. For instance, if you had opened an explorer window where your mouse is located on the left pane and your keyboard is currently focused on the right pane. What happens if you roll your mouse wheel now? Obviously the elements in the right panel would be scrolling up, inspite of your mouse being located on the left pane. Well, that's the default behavior of Windows and it is quite annoying too. Don't you think whenever the mouse is scrolled, the user will expect the element below the mouse cursor to scroll up?
Mouse Hunter is a free windows utility that changes this annoying behavior of windows. It means, when you roll the mouse wheel, the utility rolls the UI elements located under the mouse pointer and not the element that has the input focus (the keyboard input). Using Mouse pointer you can scroll windows elements without having to activate them.
Checkout the screenshot below for more clarity.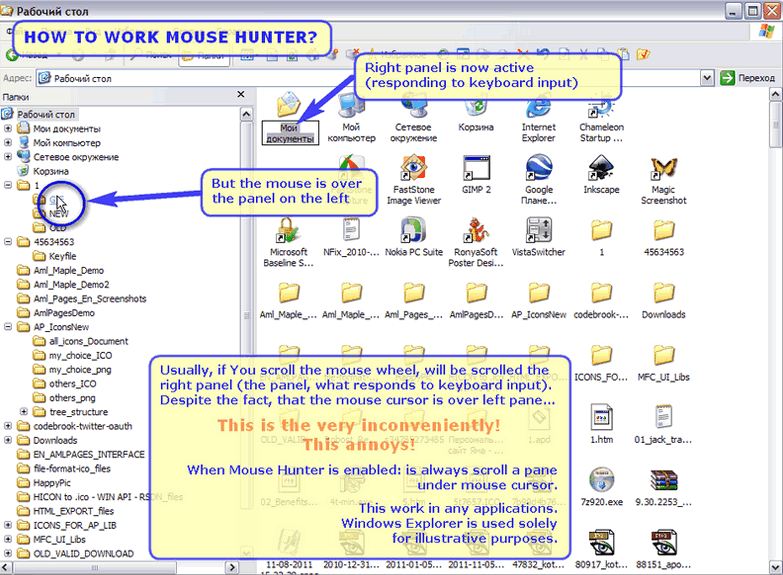 Interestingly, the utility will work on almost all applications. Mouse Hunter is a very simple tool, as it stays quietly on the system tray and improves the functionality of mouse wheel. You can enable or disable Mouse Hunter by clicking the icon on system tray and just double click it open the settings window where you can enable horizontal scrolling when certain buttons are pressed. The utility comes with a support for Russian, Serbian, German, Spanish, French languages…
Download Mouse Hunter now! Image Courtesy: Mouse Hunter.
Here's the list of most useful tools for Windows…
Related Content