Google surprised us with the news that Google Reader is shutting down and there were plenty of requests from our readers to write articles on other alternatives. In fact, we did wrote few alternatives like Feedly and how to make use of Twitter lists to keep track of your news feeds. Well, if you need more option, then import all of your Google Reader feeds to Flipboard and read them on your smartphone or tablet.
Flipboard is one most popular RSS application that features attractive interface to bring latest news feeds right on your smartphone or tablet. Interestingly, Flipboard also features an option to import your Google Reader feeds. This means, when your feeds are imported to the app, you can read them right inside the app it self.
Well, here's how you can do that,
If you don't have Flipboard installed, just head on to app store/Google Play and download it.
Step 1: Launch Flipboard app from the Home screen of your device.
Step 2: Create a Flipboard account, if you don't have one.
Step 3: Tap "Search" icon located on the top right corner of the screen.
Step 4: The next screen will provide you with an option to link with Google Reader.
Step 5: Tap Google Reader and sign-in with your Google credentials.
Step 6: You to need grant access by tapping "Allow access".
Step 7: Flipboard will import all of your Google Reader feeds.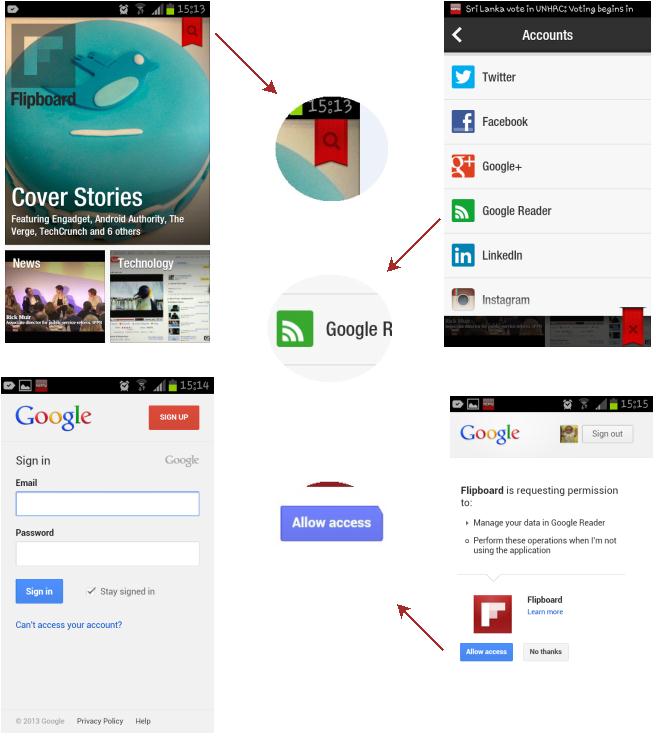 That's it, hereafter forget about Google Reader and add new feeds to your Flipboard account.