Here are three serious security issues that every Skype user must know. Though reports from Skype claim to work on the issues, the end user must know and take necessary steps to protect themselves. Okay! lets get to the point straight away.
Dorkbot Worm
Dorkbot worm was first found during this year. The worm was first seen on the social networking sites Facebook and Twitter, which locks the user out of the PC and demands a ransom – means demanding money through the spoofed messages. The spoofed message will be delivered to the targeted victim as "lol is this your new profile pic?", which will download an associated zip file containing the Dorkbot worm. Worm will then install a Ransomware on the infected PC, says the security firm Trendmicro Systems.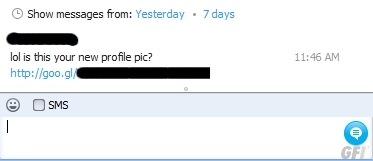 The Dorkbot worm seems to steal the username and passwords from the sites like Facebook, Google, Netflix, PayPal and Twitter. Moreover the worm can even disrupt the DNS resolution, adding iFrames to the web pages and can act as a proxy server to download and install more malware.
ALSO Read: Eight Skype Tips and Tricks
Fake App for Android and Symbian 
Microsoft warned Skype users early this year about the Fake Skype app for Android devices. The fake app runs only on the Android devices that allows Java MIDlets to be run. Java MIDlets can also run on the Symbian devices. According to the reports from the security firms, these malwares' are distributed from fake websites that are hosted on .ru and .ne top level domains. After malware installs on the device, it sends an expensive SMS message to earn money for the developers.
Cross Platform Malware
This Cross Platform malware can run on any platform, whether it is Windows or Mac. The trojan was discovered during July 2012 infecting OS X 10.6 Snow Leopard and OS X 10.7 Lion machines. The malware uses java to gain access to the computer by monitoring Firefox, Safari, Microsoft Messenger and Skype. The malware after installing on the infected PC, records the Skype voice calls and can intercept the network to track down the webcam information, location and address book details.
Solution:
According to the reports from Skype, the users are advised to regularly update Skype with the latest version and keep track of the security notices. Moreover, if you suspect to be a victim of malware attack, then it is better to use trusted malware cleaner.