Skype has been my favourite VoIP calling app till now. It comes very handy when you want to reach out people who are physically away. Even-though I did not feel like – having to sign in to multiple Skype accounts at the same time, many people who share a single device would have felt the need of it.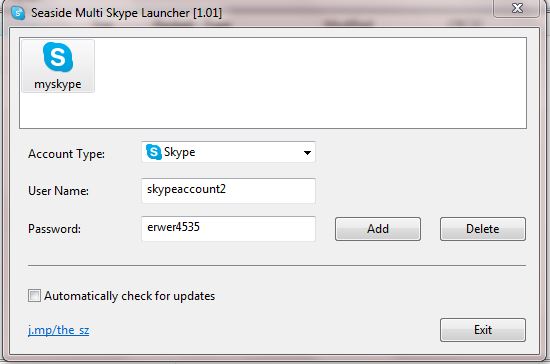 Here we have  a light-weight client, which enables you to use multiple skype accounts – Seaside. Seaside doesn't come with a modified version of Skype, it just enables Windows to execute multiple Skype apps at the same time. So, you need to have the Skype app installed on your PC. Once installed, the tool launches a minuscule console window, where you can configure your Skype accounts. You can configure any number of accounts here!
Seaside is a free app that allows you to use as many Skype accounts as you want on the same computer together. It works on Windows XP, Windows Vista, Windows 7 and Windows 8.  Will you try out? Find the Download link below.
Download Seaside.