Transform your holiday photos into an awesome video slideshow and share it with your friends. Isn't hard to do that? Not at all, if you are using a service called slide.ly. "Slide.ly" can simply transform your pictures from Facebook, Instagram and Flickr into a video slideshow. And what's use if you don't share it with your friends? Well, this service provides that facility as well.
The creator Tom More wants his users to tell their stories in a creative and emotional way and that's the reason behind this creation. EasyHi, the company who developed this service can help you instantly create personalized video slideshows using your photos. Till now, one million video slideshows were created and two or more videos are created by a user in his/her first 15 minutes visit to Slide.ly.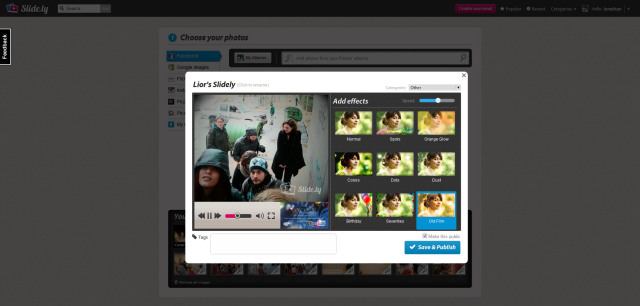 Using Slide.ly is quite simple, you have to just upload your photos from local hard disk or from social media services like Google Images, Facebook, Flickr or Instagram. Choose an effect (ranges from "Old flim" to "orange glow"), background music and add message to slideshow. It's so simple as that.
Checkout the service here.
Image Courtesy: Techcrunch.com