We browse on the web to get an answer for nearly all our questions. The answers may be from forums, online groups, websites or anything for that matter! Sometimes, it leads to an unhappy situation when the site forces you to sign-up for an account, to proceed. In most cases this would be a free account and this account is just maintained so that they can email you regarding promotions or whatsoever and collect data on what you read. Definitely SPAM!
So how to get rid of this?! Lets have a quick glimpse on some quick methods-
Create a Disposable email address with Mailinator – Let them eat Spam
Mailinator is one of the most popular disposable email services available in the web. Creating an disposable mail address could be handy whenever you come across any website that asks you to register. To use Mailinator, just select a random Mailinator email address and enter this address when asked for email account. For email verification, go to Mailinator website and enter the same address you mentioned earlier during registration and you will get it!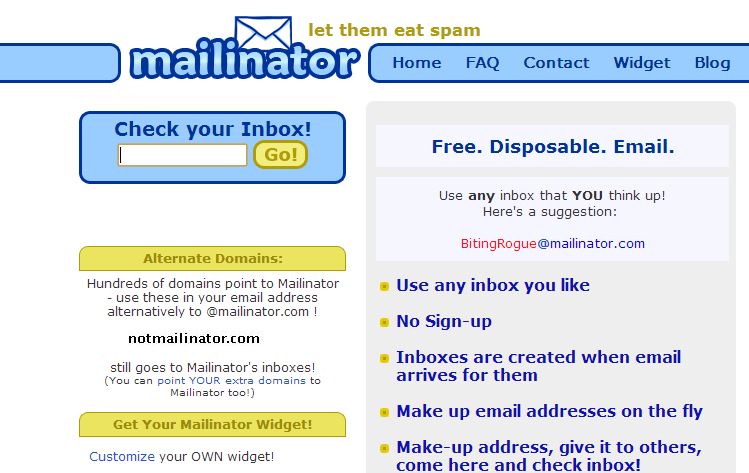 But beware that Mailinator is not a private service and so anyone can access your email if the name is known to them.
Make use of the BugMeNot database
BugMeNot is an interesting collection of usernames and passwords for websites that compel you to register. All you have to do is to visit the BugMeNot website and enter website url into the box given there. A list of username and password combos to log in appear along with the success rate statistics. You can try out them and if you find that they no longer work, you can enter your own disposable account.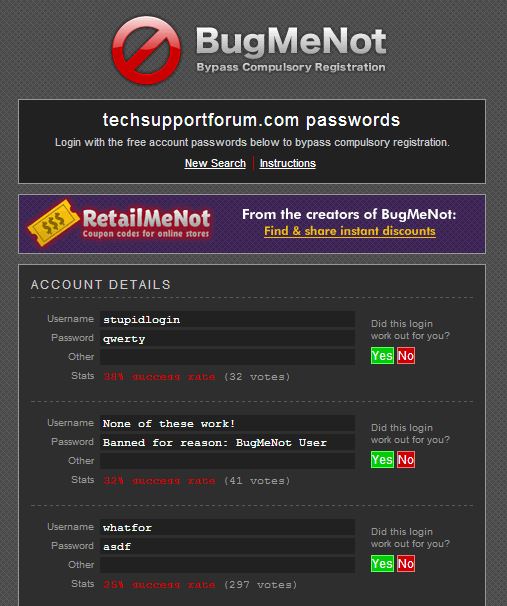 But make a note that this trick will not work out for paid registrations!
Use Microsoft Outlook.com's email alias 
You can create a temporary, disposable email address using Outlook.com or Hotmail. To create one, click Create an Outlook alias option available in the Settings page, it will ask you to login again to verify your password, go on and give the desired alias email address in the next page and create one. Now you can give this alias address to any website during registration. Also, you can delete the alias whenever you wish!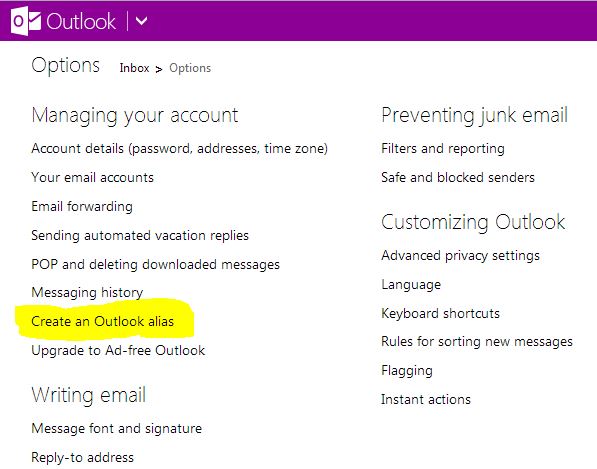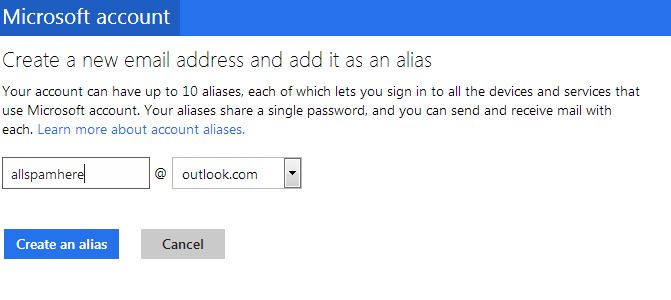 For GMail lovers
Although GMail doesn't give a significant feature as such of Outlook and Hotmail you can very well append an extra word along with a plus sign to your email address and then set up a filter that will redirect all email sent to example+allspamhere@gmail.com(example is your email id) to a new folder or trash. So when you sign up for some website you have your new spam specific address ready to enter there and for email verification just go to the redirected folder and complete the registration process. Done!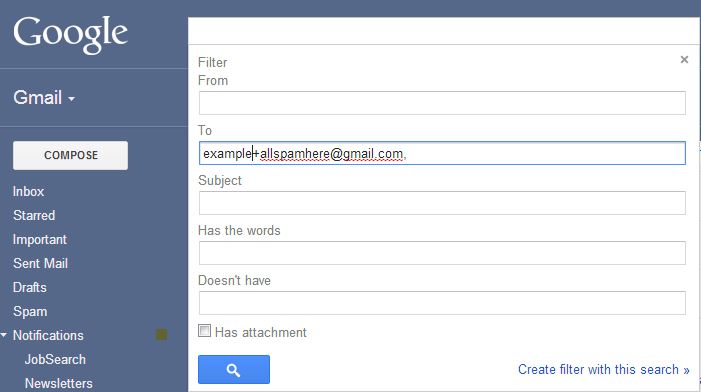 Now, whats your choice?!