These days Smartphones can do almost everything, but when it comes to multitasking, they let you down. For instance, if you want to reply to a text message or browse the internet while watching a video, then you are out of luck. Most often it is not possible to perform more than a task at once on your smartphone or a tablet. Wouldn't be nice if you can watch a YouTube video while performing other activities? Today we are going to speak about one such app called "Floating YouTube Popup video" for Android, that allows you to do other things while watching your favorite video in a movable, floating popup window. As the name says, the app works along with the YouTube app. It means, you will have to choose your favorite video in the YouTube app and share it with Floating YouTube Popup video to play it in a floating popup window. Alternatively you can launch 'Floating YouTube Popup video' and search for your favorite video right inside the app itself.
All you need to do is, just head on to the link provided at the bottom of this article and install the app. Once installed, launch Android's YouTube application, navigate to the video you wish to watch, tap share and then select Floating YouTube Popup Player and there you are!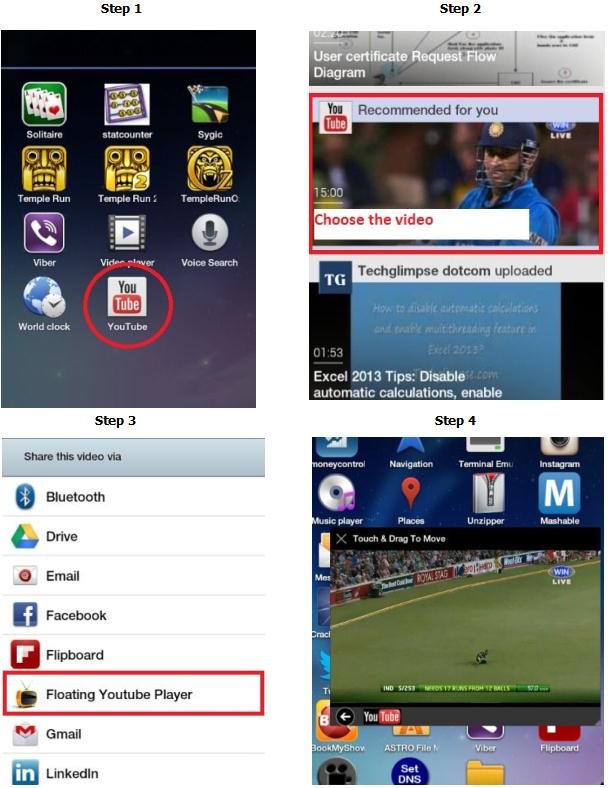 Thereafter you can re-size the floating video, move it around the screen to position it for comfortable viewing and launch other applications. Probably you might face one limitation, that's the size of the screen and the power of the device to run multiple applications at the same time. Otherwise, Floating YouTube Popup video is an awesome app for any YouTube fan.
Download Floating YouTube Popup video for Android.
Checkout more apps for Android…