We don't realize until it happens, that is the general tendency of any human. But that should not stay true against internet access. Do you know someone makes huge money by tracking what you do online? If not, check our previous article that tells how you can protect yourself from Internet tracking.
Today we are going to see an application called WIPE that helps to keep your system clean and protect your privacy, by permanently deleting temporary browsing files, history, cookies, index.dat and even autocomplete forms. Yes, permanently; it means deleted files cannot be recovered by any data recovery programs.
WIPE will completely erase tracking data and other unwanted files that acts an entry point for internet tracking programs. All you need to do is, just head on to the link provided at the bottom of this post and download WIPE. Once the application is installed and started, you will see an alert box that tells WIPE is accessing thousands of files in your system and the process would take around 1-2 minutes.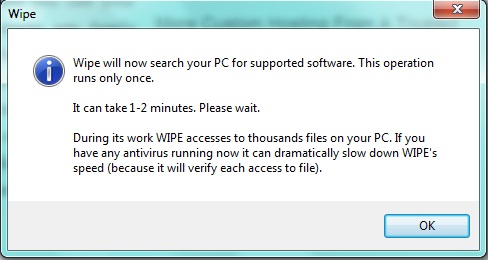 Click Ok and the application should start as shown below,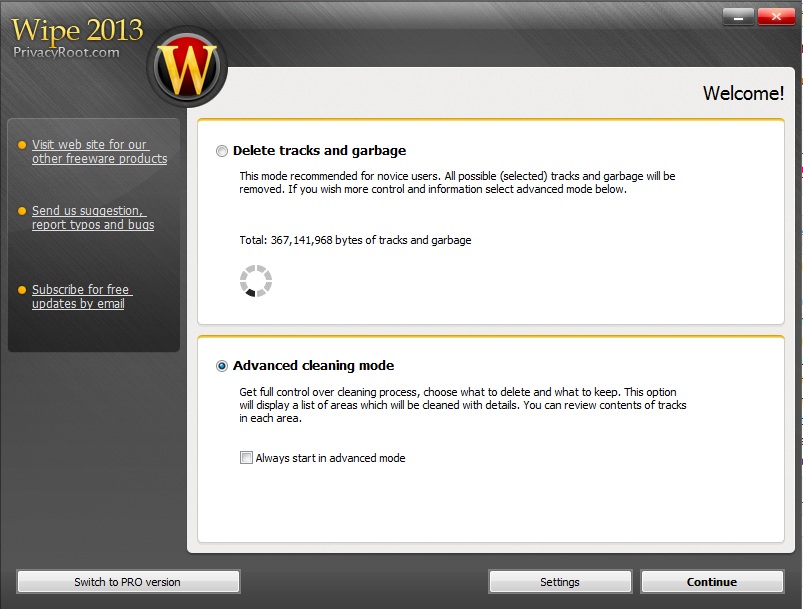 You should also check out "Advanced Cleaning mode' where you can choose the files for deletion. If you don't prefer this, WIPE will automatically detects tracks for removal. Once done, the app will allow you to perform cleaning process.
WIPE is available as free and pro versions. Pro version will allow you to select additional wipe methods, which includes one pass anti-recovery, Russian GOST etc…but at the cost of $9.99 for single PC.
WIPE works on Windows XP, Windows Vista, 7 and 8. Download WIPE now!