If you are re-installing your windows operating system, then you will have to re-configure all the applications, copy your personal files and setup network configurations again. Particularly setting up your wireless network is not that easy, as it requires you to setup the IP, DNS etc…Today we are going to speak about a tool called "Network Profiles Utility" that allows you to export and import your network profiles quite easily. It means, you can use this tool to backup your network profiles and restore it easily on your new operating system or PC.
Network Profiles Utility is a simple and portable windows application that takes up only few seconds to re-setup your network profiles again. All you need to do is, just download the tool and start running the application. When the app is launched for the first time, you will have to setup few configurations using the Config window; these configurations will let you to control the behavior of the tool. You can choose which settings you wish to backup or restore; this includes wireless profiles, IP/DNS settings or both. You can also choose to save the profile in the name of your computer or username. When you are done with options, just click "Save & Close" button.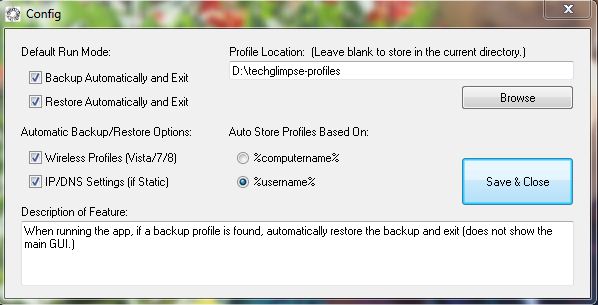 The next window will let you to enable or disable Wireless profiles and IP/DNS parameters. Click the "Export" or "Import" button to backup or restore the profiles. If you wish to change the configuration, then click on the "config" button to fine tune it.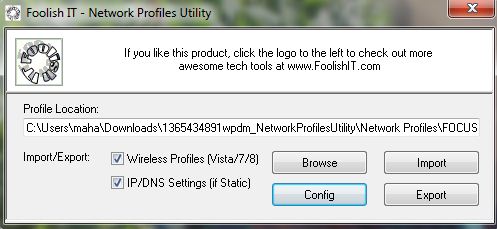 Network Profiles Utility will work on Windows Vista, Windows 7 and Windows 8. Checkout the tool and let us know your feedback as comments below.
Download Network Profiles Utility here…