Would you not be happy if you get tailored results? Suppose you want to buy a laptop and search the internet, these ad services which track what you do, show-up some amazing deals for laptop just before your eyes! Sounds good, and hence ads have been of interest a while back, but now, this is considered as killer tracking!
Many of you would have been using Adblock Plus already! For others, its an extension for your browser to help in blocking annoying ads. But do you know that Adblock Plus could do a lot more than just blocking ads? Let see few of them!
Stop Websites from Tracking You
Don't panic, almost every website you visit, is tracking you!  They collect statistics for advertising. Here with Adblock Plus, you disable the tracking.
Head on to this page and click on open this dialogue link and click the "Add" button. You can also disable social media buttons which also track your activity by visiting this link.

You might also read : Here's the list of Top Companies who Track you Online to Make Money – Opt Out now!
And
How to disable Google's Shared Endorsement Ads? – Quick Tip
Protect your computer from Malware, Adware and Viruses
Viruses are around us always and their incoming through internet is always happening . They get upgraded daily similar to your virus scanners. But do you know that Adblock Plus could actually protect you by blocking the sites with these unwanted malware. Just click on the link and click the "Add" button to configure a filter that protects you from sites known to spread malware.

Block Any Content
You might not like some image or video or widget on a website and you do not want to see that. So here, Adblock Plus's custom filter will be of help. Just right-click on the content and choose "Block Element". Doing this will automatically create a custom filter that blocks the specific content from that URL. So, now on enjoy and have your custom pages designed, just by blocking them.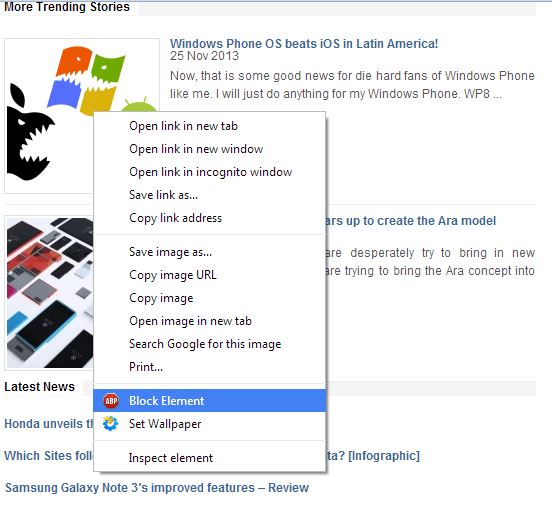 Block All Flash content
Hate auto-playing videos that kills battery and network? Here is an option. Just go to Adblock settings and select  "Add your own filters". Copy and paste the below content to refrain flash content.
*.swf
To block all multimedia content you will have to add.
*$object
But the above step will block all of you flash content, incase you need a particular object to be loaded just disable for the particular site. Click the ABP logo in your browser (in the URL bar) and uncheck the "Enabled for this site" button to disable it. You can also do this by adding the website name to filter. For eg –
techglimpse.com$object

Customize Facebook
Facebook has got a lot of criticism for its interface. For users who really do not bother about the stuff  like games, ads, TV show ratings, and other sponsored items to the news feed must have already known about the Social Fixer extension, which allows you to customize Facebook page. Now Adblock Plus helps you to block annoyances from your news feed, from the sidebar, or even both. Just click this link and click the "+Add" button.

Touch-up YouTube
If you do not like the sidebar or the comment section or social integration, Adblock Plus could help you.Click on this link and select what you want to block and Add them. You can now get a much cleaner and bolder video viewing experience! 

You might also read : 4 YouTube tricks to increase your experience

Bypass Login Restrictions
Sometimes, websites ask you to signup to view the content. At times its ok, but most of the times we do not like to register just to read a content. Even here, Adblock Plus can help you, we have taken Quora as the example and set a filter. Go to Adblock settings and Add
quora.com##.modal_signup_background
quora.com##DIV[id$="_modal_signup_wrapper"]
quora.com##.blurred_para
Adding this, will allow you to read on Quora without signup. You can also do this on any site that blocks its content with overlaying image. Just try to block the image by simply right-clicking and selecting "Block Element". Might work!
You might like : How to bypass Compulsory Registration on Website?
Note: You might not want to block ads on all pages, especially a free content provider like us. Its simple to add a set of websites you feel like that provides non-intrusive ads. So, go to Adblock Plus's settings and then to Whitelist tabs and add the website.