How many spam calls do you receive in a day? I guess, at least one and sometimes more than that isn't? No one likes spam calls, especially those annoying credit card offers from banks. Of course, you can register in DND (Do Not Disturb), but that doesn't mean you will not get such calls. Fortunately, there is a way to block calls from Telemarketers on Android and iPhone.
1. On Android KitKat
If you are using Android KitKat 4.4, then the feature is built-into the operating system itself. The OS comes with a Caller ID by Google, which can automatically find the right number that is calling you. The feature will search the number in nearby places, in Google Apps accounts, Google Places listing and displays that name on your screen. Well, there is a limitation with the feature. What if the company is not listed in Google Business directory? Google Caller ID cannot identify that number.
If you are using older version of Android, then the option varies. If you receive a spam call, go to call log, press & hold the number you wish to block. While holding the item, a pop up menu will allow you to add the number to contact or block it. In Samsung devices, it called as "add to reject list", in HTC – "block contact" and in LG, jump to System > call > call reject and tap plus.
2. On Android 4.2.2
You may choose to direct all calls from a specific contact directly to voicemail. To do that, when you receive a spam call, add that to contact. Then view the contact and tap "All calls to voicemail".
3. On lower Android versions
If your device is running older version of Android, then there are few apps that can help you.
Block Spam calls using Mr. Number
Mr. Number is a free app for both Android and iOS devices, which makes it easy to block calls and text messages from spammers. The app allows you to block calls or messages from specific contact, an area code or any part of the world. It will also automatically identify and intercept calls or texts from private or unknown  numbers. Interestingly, Mr. Number allows you to read comments posted by other users when you get a spam call or text.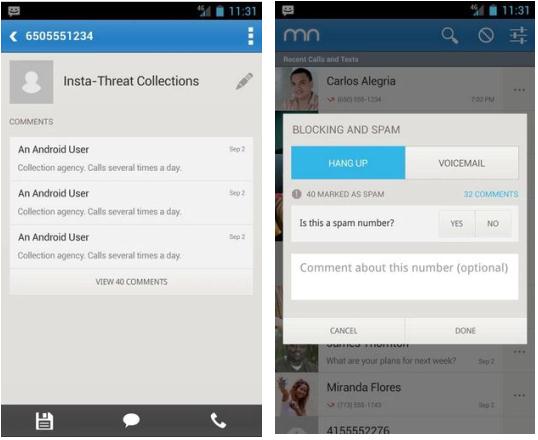 Call Blacklist
Call Blacklist is one of the best app to block and filter spam calls or messages. It allows you to block any number stored in your contact, from calls and message logs. It means, whenever you receive a call from a blacklisted number, it quietly blocks it. The blocked calls are saved for later reference.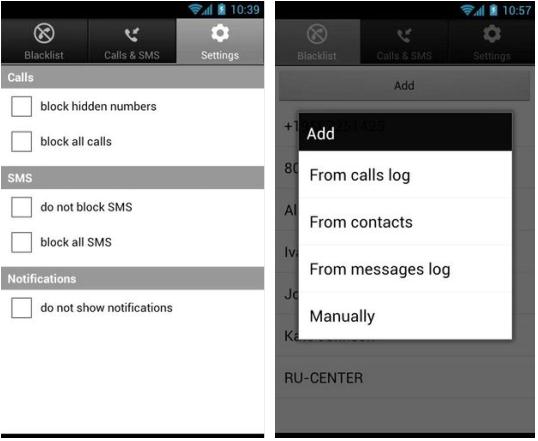 How to identify and block calls or sms on iPhone?
iOS 7 comes with a built-in feature to block calls. To do that, go to Contacts app and tap on the contact you wish to block or find the number on recent call log and tap 'i'. The app will take you to the contact page for that caller, where you can scroll down and tap "Block This Caller".
That's it.
Ask your carrier to block the number
If you don't wish to install an app that can help you block numbers, then you may ask your carrier operator to block it.