Today I'm going to share my experience of booking Covid-19 vaccination slot on CoWIN portal. You might recall our experience with TicketMaster chrome extension which helped to book tickets on IRCTC. On similar lines, a chrome extension has been developed by Sushrut called Cowin Booking. With this extension, you can book covid vaccine slots faster than ever!
Book Covid-19 Vaccination Slot Faster
Cowin Booking extension helps you to automatically fill data on CoWin portal to speed up Covid vaccine slot booking including captcha. Few tips and below step by step procedure can help you in booking Covid vaccine slots faster than your normal way of booking!
Step 1: Register yourself on the CoWIN portal and add all your beneficiaries.
Step 2: Unfortunately the extension Cowin Booking Extension has been removed from the chrome extension store. So you can install it manually on your own on your chrome browser by following steps:
a) Goto GitHub page hosting Cowin Booking Extension, Download the package as a ZIP onto your desktop and Extract the files.
b) Open the chrome browser and type chrome://extensions/ in URL
c)  Turn on the developer mode on the right-hand top corner.
d) Click on Load Unpacked and select the unzipped folder containing the files from this page.
e) The extension is installed successfully and now ready to use.
Step 3: Before you go on filling your details in the extension, you need to collect information about the PIN codes of the vaccine centers. For example, I live in Bangalore and near to my home, there was a particular private hospital called CloudNine whose PIN code is: 560043.
Step 4: Find out the slots allocation time for that particular center. That is when the slots will be allotted on the CoWIN portal for that particular center. To find out, login to your PayTM APP and head to All services. Look for the Covid-19 Vaccine Finder and enter your pin code/district, select between 18+ and 45+ age groups and Dose as shown below: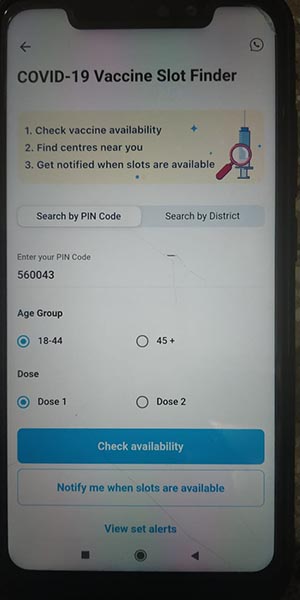 Step 5: Follow the alert timings. Definitely, the alert timings will be a delayed time. Note for the particular center and its slot allocation time could be somewhere prior to 15-30mins.
For eg: I received the alert at 6:16 pm, so the actual allocation time might be around 6:00 pm and it happened so!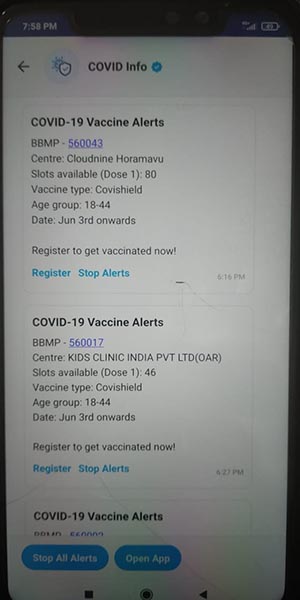 Step 6: Once you have the center details in hand, open CoWIN portal. Click on the Edit Auto Fill Inputs button on the left top corner as shown below: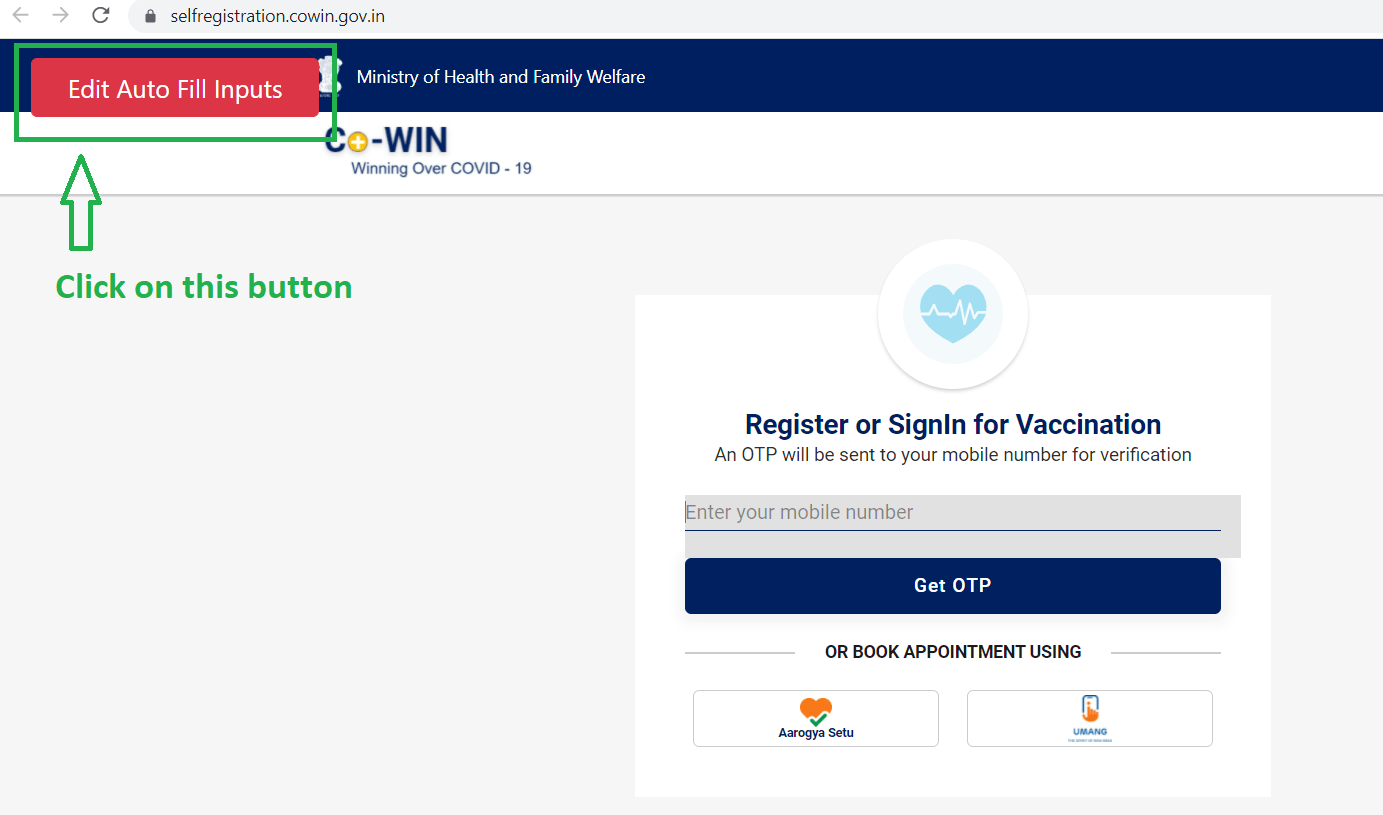 Step 7: Go on filling in the details as shown in the below image and click the save changes button at the bottom of the pop-up window.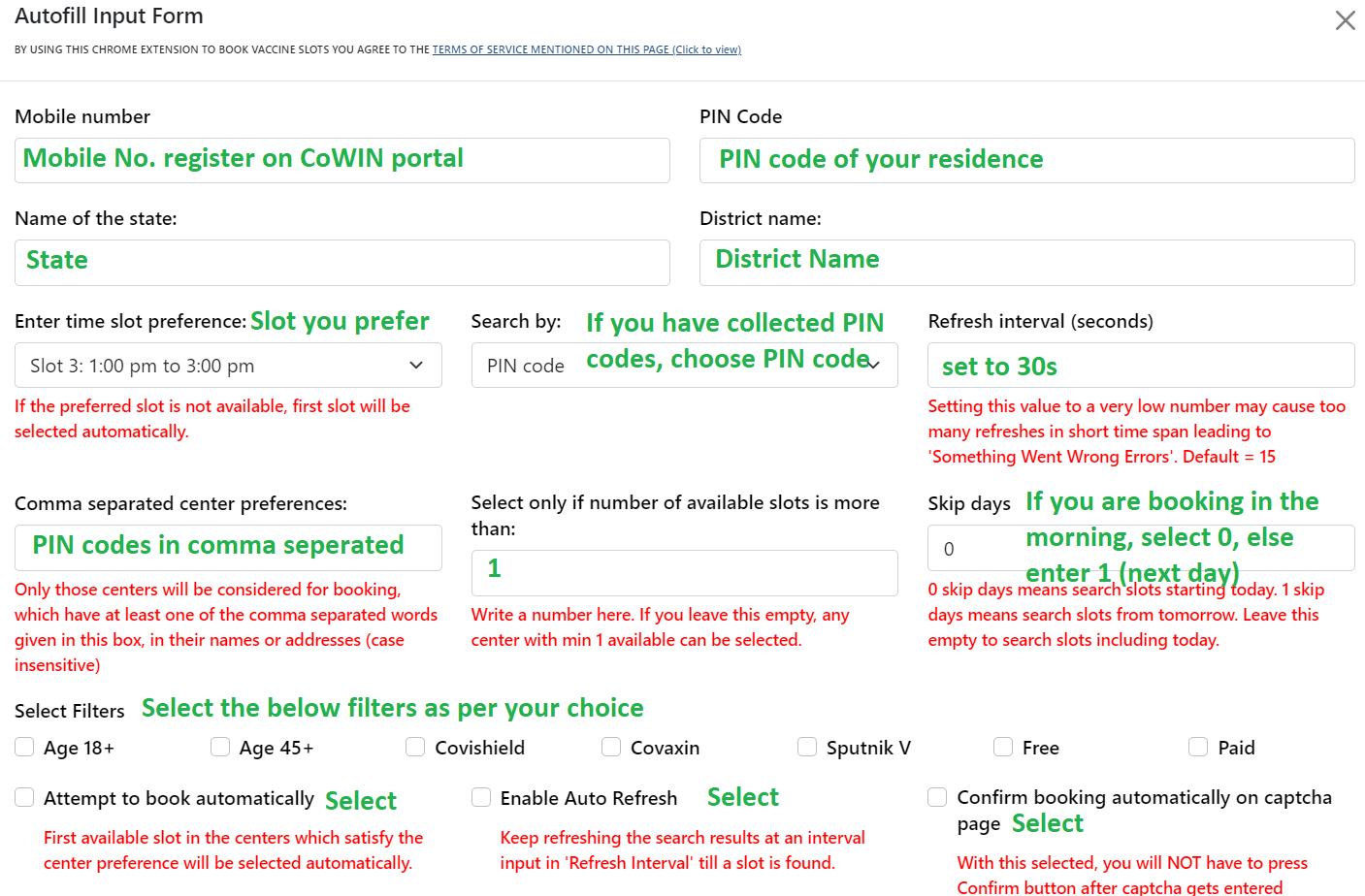 Step 8: Now navigate to Register/Sign in Yourself page. You'll see the magic of the extension from here itself, as it would fill up the mobile number by itself and show you the OTP verification page. You only have to submit the OTP.
Step 9: It would show up the list of beneficiaries and click on the beneficiary you need to book a slot for vaccination.
Note: The drawback of this extension is you can only select one beneficiary at a time to book a vaccine slot.
Step 10: If you are on time following as per step 5, then you see the magic of the extension helps you to book the vaccination slot by itself and provide you the confirmation page.
The extension has a window of 15 mins for a particular session and after every 15 mins you need to login again and again. You don't need to worry about time management, as it alerts you with a beep sound until you login again.
I hope this experience helps you to book Covid-19 Vaccination slot faster. Please leave your feedback in the comment section below.
Note: Even after taking your vaccination, stay home and be safe.